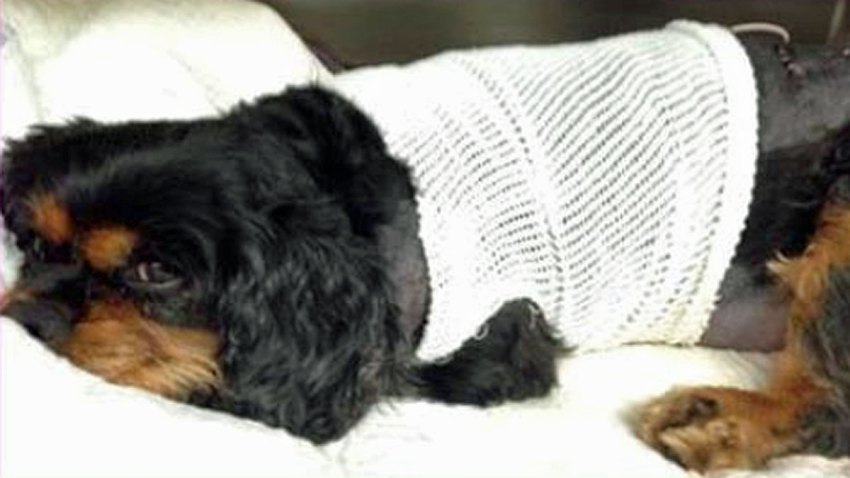 A North County family needs the public to help pay for their dog's medical care after he survived a coyote attack.
The Cavalier King Charles Spaniel fought off the coyote long enough for a neighbor to scare off the wild animal.
The dog named Tommy was attacked Tuesday around 5 p.m. in the Village Park community of Encinitas, according to The Foundation for Animal Care and Education (FACE).
The organization offers grants to pet owners who cannot afford medical care for their animals and they're asking for donations in Tommy's honor.
A neighbor coming home from work saw what he thought were two dogs playing but, once he realized what was going on, ran across the street to try and stop the attack.
Tommy had gotten out of the family's fenced-in backyard and was in front of their home when the coyote grabbed him, according to the organization.
The breed weighs approximately 12 to 15 pounds and stands about one foot tall. In comparison, coyotes range in size from 15 to 40 pounds.
The California Department of Wildlife suggests keeping pets indoors overnight, installing motion-sensitive lighting and keeping garbage contained. Since coyotes feed on rodents, bird feeders can draw them into a yard.
If you encounter a coyote, make a loud noise to scare the animal off.
FACE recommends dog owners remove pet food from outside the home and avoid leaving pets outside unattended to try and protect their dogs from a coyote encounter.
To learn more, call (858) 450-FACE.