On Thursday, the first anniversary of a tragic Amphibious Assault Vehicle (AAV) accident that left nine military service members dead, families of the fallen announced legal action against the manufacturer of the vehicles.
In March, the attorney for the families, Annee Della Donna, told NBC 7 her firm's investigation of what the U.S. Marine Corps called a "training mishap" found the deadly accident was preventable and said manufacturer BAE Systems was to blame.
"BAE Systems has known about this defect for decades and they never bothered to fix it or notify the military. Instead, they've taken billions of dollars from US taxpayers to build these death traps," she said Thursday during the announcement.
Deadly AAV Training Incident
More on the sinking accident.
Possible Design Flaws
Della Donna said the AAVs had well-known design flaws and were prone to mechanical failure. It was a different picture than what was painted by a USMC command investigation, which pointed to a combination of human and mechanical errors leading to the sinking of an AAV off San Clemente Island.
"They knew, they knew for years, according to our investigation, that there would be servicemen and women who would die in this type of accident," Della Donna said in March. "This was not an accident waiting to happen, this was an accident that was going to happen eventually."
She went on to describe how the service members met their tragic fate in the vehicle.
"For 45 minutes, they sat in this dark coffin and slowly sank to the bottom of the ocean," Della Donna said.
According to witnesses and survivors of the training incident, those inside the vehicle tried all they could to get the hatch open. However, the weight of the door was too heavy.
"Our clients' sons desperately tried to get out alive, and we know that. But there was no way to physically get that door open," Della Donna said. "The weight of the door and the pressure of the waves, according to our experts, was over 5,000 pounds. They couldn't get out. They died a horrific death at the bottom of the ocean. When the parents retrieved the bodies of their sons, many were unrecognizable. These mothers and fathers could not recognize their sons."
Attorney Eric Dubin said the group "died a horrible death and we just never want that to happen again."
"These are kids that wanted to be in the military – marines, navy. They accepted certain things in their heart, which all parents of military do, which is combat, defending our freedoms, defending our country," Dubin said. "What you don't accept or embrace in your heart is for your kids to die because of defective equipment. For your kids to die because of knowingly defective equipment. If accountability is what it takes to get these things fixed, then that's what we want."
Families' Reactions
On Wednesday, Evelyn and Carlos Baltierra, parents of fallen Marine Pfc. Bryan J. Baltierra, 18, of Corona, spoke about their son's death publicly for the first time.
"After finding out this was 100% preventable and that they had no chance because of all the failures, that is what hurt us the most," Carlos Baltierra said.
On Thursday during the press conference, heartbroken mothers, a father, a wife and a brother of the fallen spoke in tears on how the tragedy changed their lives forever.
"There are times when I just want to run, run and run so I could find him and hug him again," said Lupita Garcia, mother of 21-year-old Lance Cpl. Marco Barranco. "This pain is something I don't wish any other family to go through."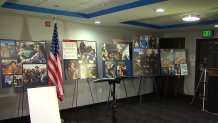 Christiana Sweetwood, mother of 18-year-old Lance Cpl. Chase Sweetwood, shared how her young son was just a day away from turning 19 before his untimely death.
"There's a hole in my family I can't fix," she said. "And I don't want another mother standing at the door at 7 a.m. with two casualty officers telling her that her son is missing, and they don't know why."
Holding hands with Garcia and Sweetwood for support, Aleta Bath, mother of 19-year-old Pfc. Evan Bath, said the teenager was her only child. She recalled his sense of humor and said he would often forget about their time difference and call her late at night.
"I still don't sleep because I'm waiting for a call that doesn't come," Bath said.
Sarah Villanueva, wife of 21-year-old Cpl. Cesar Villanueva, was accompanied by her brother-in-law, Carlos, at the announcement.
"I would not wish any other wife or girlfriend to feel this same feeling I feel every day," she struggled to say between sobs.
"He was practically my best friend," Carlos Villanueva said of his brother. "When I had my darkest times, he was the only one who could help me out."
Following the press conference, Christiana Sweetwood spoke to NBC 7 more about her son, Chase. Raised in Chula Vista, the teen always aspired to enlist in the military, she said. From ages 15 to 17, he trained to be a Marine and even asked to go early after he finished high school a year sooner.
"Now, looking back, I wish I would've never signed those papers," she said.
The devasted mother recalled how her sweet boy was her best friend. He was a skateboarder, a surfer and an inspiration gone far too soon.
"There are so many things that day that they could have done differently, and chose not to," Christiana Sweetwood said. "For months, they knew that these things were done - they were at the end of the rope, and they chose to use them. It was wrong."
Now, the grieving mom wears an image of her son around her neck in his honor.
"I don't want any other moms to have to do this -- stand here with a stupid picture of their dead kid," she said. "And tell the world there needs to be safety when there should've been safety."
U.S. Military's Report
The report, completed by the I Marine Expeditionary Force (MEF), said disregard of maintenance procedures, inaction by AAV crewmen and improper training all played a role in the incident last July.
"The investigation revealed a confluence of human and mechanical failures caused the sinking of the mishap AAV, and contributed to a delayed rescue effort. The investigation determined the cause of the mishap was a combination of maintenance failures due to disregard of maintenance procedures, AAV crewmen not evacuating personnel when the situation demanded for such actions, and improper training of embarked personnel on AAV safety procedures," the USMC said.
The sunken AAV and 12 others were involved in a training mission on San Clemente Island, about 78 miles off the coast of San Diego, on July 30, 2020, according to the USMC.
The first signs of mechanical issues appeared as crews were getting ready to leave the island and go back to USS Somerset. One of the AAVs had a mechanical failure that caused a five-hour delay and forced four AAVs and several service members to remain on the island, the USMC's report said.
U.S. Marine Corps' Statement
Jim Stenger, a spokesperson for the U.S. Marine Corps, issued the following statement in response:
"The Marine Corps is committed to identifying the issues that led to this tragedy and to preventing future occurrences. We have concluded a safety investigation and a command investigation into the facts and circumstances surrounding the sinking of 15th Marine Expeditionary Unit's amphibious assault vehicle and the resulting loss of life. An investigation into the formation of the 15th MEU is pending endorsement. Finally, a comprehensive review of amphibious operations is underway, being conducted by senior Marine Corps and Navy personnel; this assessment is a strategic review of amphibious operations.
We are confident that both the safety and command investigations identified contributing and causal factors to this tragedy. As a result of these investigations, the Marine Corps has directed 23 institutional actions to ensure the safe execution of AAV waterborne operations. These actions fall into one of three categories: equipment, procedures, and training. Equipment actions include a combination of equipment advances and additional inspections such as: procurement and sustainment of a Waterborne Egress Capability program; electronic tablets for crewmembers to manage associated technical and procedural manuals; and new criteria for hull watertight integrity, bilge pump function, communications systems, and emergency egress lighting systems. To address procedural actions, the Marine Corps has administered many publication and policy reviews to operating procedures, technical manuals, and safety structure requirements during training. These include updates to: training and qualification prerequisites; authority and decision making procedures; and safety boat requirements. Finally, training actions include implementing additional standards for water survival, underwater egress training for both crew members and embarked personnel, and standardized knowledge tests for crew members. These last two tasks, plus oversight of mechanical and procedural inspections, have to be completed by operational level units and certified by the first general officer in the chain of command in order for them to gain authority to perform waterborne operations. In some instances across the Marine Corps, certain units have been granted permission to conduct what we refer to as "shore-to-shore" amphibious operations involving the AAV. In order to conduct this training, units have to demonstrate proficiency in the core competencies and skills required for safe amphibious operations."
A Desperate Effort to Survive
Della Donna said the AAVs were equipped with upgraded tracks that were heavier and lost transmission fluid when they were in the water. When the AAV reached San Clemente Island its transmission was smoking and empty of fluid.
"So they ran around looking for transmission fluid. They could only find six gallons, instead of the 23 they needed. They poured it in and then they were ordered back into the water," Della Donna said.
As the other nine AAVs were headed back to USS Somerset one of them began taking on water from multiple points, the USMC said. The vehicle was equipped with bilge pumps, but due to a transmission failure the pumps couldn't handle the amount of water coming in and the vessel began to sink, according to USMC's report.
"When they get in the water they burn through their transmission fluid. So what happens is they got on the water, they got past the surf zone, they burned through all of their transmission fluid and the engine froze, so now you have no forward movement, you have a 26-ton vehicle that starts taking on water cause its sitting there, and it starts to sink," Della Donna said.
A distress signal, known as a "November Flag," was sent out but no safety boats were in the water, the USMC said. The command investigation said it took 20 minutes for another AAV to arrive for support, and by the time the second AAV arrived the mishap AAV had been sinking for approximately 45 minutes.
"[The families are] hearing for the first time that there was 45 minutes from the first call to evacuate, 45 minutes until that track sank. There is no reason why they shouldn't have been able to get out alive," Della Donna said following the release of the command investigation .
As the crew on the sinking AAV began evacuating through a hatch on top of the vehicle, the assisting AAV collided with it and shifted the sinking AAV on its side with the hatch facing a large swell. The swell crashed into the hatch side of the sinking AAV and filled the troop compartment with water, causing it to sink rapidly with 11 service members on board, the report said.
The top hatch was another element with a critical design flaw, according to Della Donna.
"[BAE Systems] knew that when that track started to sink that the cargo hatch was way too narrow to get everyone out with all their gear on... It took three Marines going, 'One, two three,' and pushing up the cargo hatch to get it up to allow one person out at a time. And when they got it up, the waves would throw it back down, and then they'd have to do that all over again," Della Donna said.
"The manufacturer has known this for years and they've never done anything to either increase the size of the cargo hatch or have some sort of automatic opening, hydraulic opening, in an emergency, or have some way to lock it in an open position. So they knew when they sent these young men out in their vehicle, the manufacturers of this vehicle knew that they would have people die if that track sank," she said.
The body of one Marine was recovered at the scene and eight other service members went down with the 26-ton AAV, which sank to a depth of nearly 400 feet.
"No training in the world would have gotten that 5,000-pound hatch open," Dubin said. "That hatch was not going to open, these kids were not going to get out and BAE knew that."
Following an extensive search, the remains of the missing military members were found on Aug. 3, 2020, when the sunken craft was discovered. The deceased were identified as:
Pfc. Bryan J. Baltierra, 18, of Corona, California, a rifleman with Bravo Company, BLT 1/4, 15th MEU.
Lance Cpl. Marco A. Barranco, 21, of Montebello, California, a rifleman with Bravo Company, BLT 1/4, 15th MEU.
Pfc. Evan A. Bath, 19, of Oak Creek, Wisconsin, a rifleman with Bravo Company, BLT 1/4, 15th MEU.
U.S. Navy Hospitalman Christopher Gnem, 22, of Stockton, California, a hospital corpsman with Bravo Company, BLT 1/4, 15th MEU.
Pfc. Jack Ryan Ostrovsky, 20, of Bend, Oregon, a rifleman with Bravo Company, BLT 1/4, 15th MEU.
Cpl. Wesley A. Rodd, 22, of Harris, Texas, a rifleman with Bravo Company, BLT 1/4, 15th MEU.
Lance Cpl. Chase D. Sweetwood, 18, of Portland, Oregon, a rifleman with Bravo Company, BLT 1/4, 15th MEU.
Cpl. Cesar A. Villanueva, 21, of Riverside, California, a rifleman with Bravo Company, BLT 1/4, 15th MEU.
Lance Cpl. Guillermo S. Perez, 19, of New Braunfels, Texas, a rifleman with Bravo Company, Battalion Landing Team (BLT) 1/4, 15th MEU.
"What I would like to see out of this is that the militaries understand what happened take that knowledge and take it back to training," Evelyn Baltierra said.
The Aftermath
Marines Corps announced Col. Christopher J. Bronzi, the former commanding officer of the 15th Marine Expeditionary Unit, was relieved of command by Lieutenant General Steven R. Rudder, commander of the U.S. Marine Corps Forces, Pacific, "due to a loss of trust and confidence in his ability to command."
The decision to relieve Col. Bronzi of command came as a result of the completion of the command investigation, the U.S. Marines said. Col. Fridrik Fridriksson, who previously commanded the 11th Marine Expeditionary Unit, has been placed in command of the 15th MEU.
Col. Bronzi was the second leader in the 15th MEU to be relieved of command in connection to the incident. In October 2020, Lt. Col. Michael J. Regner was relieved of his command.
Della Donna said BAE Systems shares some of the blame.
"The manufacturer should have recalled them. I mean, we recall cars for less problems, right?" she said.
I MEF has taken administrative or disciplinary action against seven other people "whose failures contributed to the mishap," according to the USMC.
Della Donna and the families plan to announce their lawsuit against BAE Systems at a news conference Thursday morning in Oceanside. The families also plan on revealing footage taken from inside the troop compartment of the AAV.
NBC 7 reached out to BAE Systems, the Marines and the Navy for comment about the planned lawsuit and has not heard back.