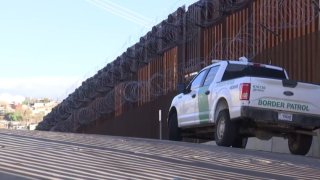 Three people were taken to the hospital Wednesday after falling from the border fence between the U.S. and Mexico just west of the Otay Mesa Port of Entry.
The San Diego Fire-Rescue Department was called to respond to four victims at the border wall at the request of the U.S. Border Patrol around 2:45 a.m., according to online logs.
Tekae Michael with the U.S. Border Patrol said it appeared three men had fallen from the barrier while attempting to illegally cross into the U.S. Another was atop the barrier and was rescued via aerial ladder by first responders.
The victims were transported to U.C. San Diego Medical Center with injuries to their legs, Michael said. The fourth was taken into custody by border patrol.
No other information was available.