The ex-husband of a retired United States Army captain, who has been missing since September from San Diego, has been arrested, the woman's family confirmed to NBC 7 Monday.
Ontario police said they believe 37-year-old Julia Jacobson was murdered based on the forensic analysis of her car.
Julia was last heard from on Sept. 2 around 9:30 p.m., when she sent a text message to a friend saying she was traveling from Big Bear to Palm Springs with another friend, according to investigators with the San Diego Police Department (SDPD).
But her actual location when that message was sent is unknown.
That same day, Julia was last seen in person inside her company car at the corporate offices of 7-Eleven on Aero Drive in Kearny Mesa.
San Diego police said Julia was spotted with her dog on surveillance video in Ontario on the night of Sept. 2.

Ontario police confirmed Monday, Dalen Larry Ware, Julia's ex-husband, had been arrested in Laveen, Arizona. He was later transferred to the San Bernardino County West Valley Detention Center.
Ware will be booked for murder, Ontario police said. They do not believe Jacobson or her dog, Boogie, are alive.
Police said the remains of Julia or her dog have not been found.
Julia's family had arrived in San Diego after her disappearance to search for her.
Her brother Jon Jacobson, who lives in North Dakota, had told NBC 7 in a previous interview that he could see "red flags" in the case.

Monday, in a post on a Facebook page, Julia's family thanked family, friends and complete strangers who had "come together" to help find Julia.
The family wrote:
"The loss of Julia is beyond words. There will be no more birthday parties, backyard gatherings, holiday celebrations or other family activities to share. The laughter, hugs, guidance and our sense of security are forever gone and our family's hearts will be forever broken."
On Sept. 7, her car was found abandoned on Monroe Avenue in University Heights, east of Texas Street, about a half-mile away from her home.
In a previous interview, Julia's family had told NBC 7 the car was found with its windows rolled down, at different levels, and the keys still in the ignition. Julia's black handbag was found inside, unzipped and with hardly anything in it.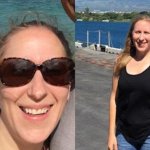 Anyone with information regarding the incident is asked to call the Ontario Police Department at 909-986-6711, Detective Ruben Espinoza at 909-395-2894 or Detective Brant Devey at 909-395-2715.
Please check back for updates.