Former MLB All-Star pitcher Esteban Loaiza pleaded guilty Friday to one felony count of cocaine possession.
Loaiza, 46, was arrested in February after San Diego County sheriff's deputies found a "sophisticated" compartment used to hide contraband in his vehicle.
Later authorities obtained a search warrant for the home he rented in Imperial Beach, where officials say packages containing a white powder believed to be cocaine were found.
Loaiza had leased the home in early February, deputies said.
Loaiza was originally charged with possession of more than 20 kilograms (about 44 pounds) along with two counts of transporting and possessing narcotics with the intent to sell — all felonies.
On Friday, he pleaded guilty to possession of cocaine with intent of distribution.
Loaiza admitted to transporting 20 kilos of cocaine to his home in Imperial Beach and transferring the drugs to another car at the property, and that he intended to transport the coacine to another person.
Still, he faces a minimum prison sentence of 10 years. His sentencing is scheduled for November 2.
According to Jarad Hodes, a prosecutor in the case, Loaiza will likely be deported to Mexico upon completion of his sentence. Telemundo 20 is reporting Loaiza's sentence may be reduced.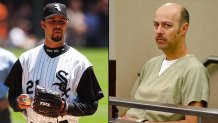 Born in Tijuana, Mexico, Loaiza attended Mar Vista High School in Imperial Beach. After his 1995 debut in the major leagues, he went on to pitch for the Pirates, Yankees, Oakland A's, Dodgers and others.
Loaiza was also the husband of Jenni Rivera, the Mexican-American pop star who died along with six others in a 2012 plane crash. The 43-year-old superstar filed for divorce from Loaiza two months before the crash.