A man from San Diego's North County has been arrested for allegedly attempting to kidnap nine females, including minors, in Escondido, police announced Tuesday.
Spicer Van Allen Conant, 46, a resident of San Marcos, is charged with nine counts of attempted kidnapping and several misdemeanor counts of attempted luring of a juvenile over the course of about a year. He is also charged with with a felony possession of an assault rifle.
In each case of attempted kidnapping, police said Conant used the same tactic: approaching young girls and women by asking for directions and then offering them money to get into his car.
He was arrested Tuesday in Escondido, while under police surveillance.
If the police timeline is correct, Escondido mom Kirstin Rangel may have been the first woman approached by Conant in his red convertible Mazda Miata.
Rangel told NBC 7 he stopped her on Mission Avenue last spring to ask her for directions.
"Scary was the first feeling I got," Rangel recalled. "Something just sort of scared me. I kinda got the red flag."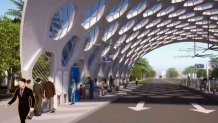 Rangel said Conant asked if she wanted a ride. Then, he insisted.
"I said no thanks and I kept walking," Rangel said.
Escondido police said another incident involving Conant was reported at 1 p.m. on May 9, 2016. This time, he approached a 15-year-old girl as she walked along Fig Street and Washington Avenue. He asked the teen for directions to the freeway and offered her money to get into his car.
The girl refused and later reported the incident to police.
That same day, at 1:45 p.m., police said Conant once again approached a girl, a 16-year-old, and offered her $10 if she showed him to the freeway. That victim got inside his car but after Conant drove around for a few blocks, police said the victim became nervous and asked if she could text someone.
Conant then dropped off the girl and drove away. According to police, a witness took a photo of Conant with the victim and reported the incident to police.
Police identified Conant as the suspect in that case but after an investigation, they came to a conclusion that no crime had been committed at the time. That case was then closed.
Earlier this month, on March 15, police said an 11-year-old girl was approached by Conant, again in his red car, as she walked to Mission Middle School. Conant asked her for directions but the girl ignored him and kept walking.
This past Monday, at around 8:15 p.m., police said Conant pulled over near a 27-year-old woman walking on Broadway and asked her for directions. He then insisted that she get into his car. The victim refused. When Contant continued to persist, she took out her cellphone and he drove off.
The incident was reported to police, after which investigators realized Conant was, once again, the suspect.
Detectives began surveillance on Conant.
Early Tuesday morning, officers followed him as he drove to Escondido and witnessed him approaching five different females. All but one were under the age of 18, police said.
When the 18-year-old was asked for directions, police said she got into Conant's car.
Fearing for the young woman's safety, officers conducted a stop and pulled Conant over on 13th Avenue and Escondido Boulevard.
Conant was arrested.
During a search of his vehicle, officers found an illegal assault-style rifle, along with 1,000 rounds of ammunition in the trunk of his car.
Escondido police have reached out to law enforcement across San Diego County to see if there have been any other cases of women or girls targeted by Conant.
Conant was booked into the Vista Detention Facility on 10 felony counts and nine misdemeanor counts. He's scheduled to appear in court Thursday.
Conant worked at Scripps Institution of Oceanography at UC San Diego from 1993-1996, a spokesperson for Scripps Institution confirmed.