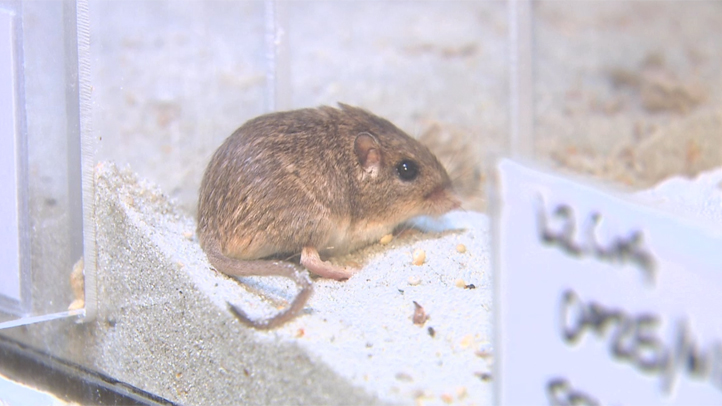 Two endangered Pacific pocket mice have been breeding in captivity as part of study led by the San Diego Zoo Institute for Conservation Research.
The research, in cooperation with the U.S. Fish and Wildlife Service, might just produce a pregnant mouse, which could mean progress for the critically endangered species.
According to researchers, the male mouse is from South San Mateo, Calif., and the female mouse is from Santa Margarita, Calif. Together, they're the first pair of Pacific pocket mice to breed in captivity.
A total of 25 pocket mice have been brought to a conservation facility managed by the San Diego Zoo Institute for Conservation Research. Their breeding behavior is being analyzed by researchers in hopes of learning more about how this species procreates.
Until now, very little is known about their breeding habits, since this activity usually happens in narrow, underground burrows.
The breeding of this first pair of mice was captured on video by scientists. The video shows the circling of the male and female, typical behavior prior to breeding, followed by an 8-minute interaction.
The female mouse made it known that she was done by biting the male mouse on the head, scientists said.
As of Wednesday, it had been 14 days since breeding happened. Researchers are now watching for physical changes in the female mouse, including weight gain, to determine if she's pregnant.
Scientists say a Pacific pocket mouse's body weight can double in her last week of pregnancy.
The gestation period for a Pacific pocket mouse is about 22 days. If the mouse is pregnant, scientists say she should give birth in early June. Pacific pocket mice usually give birth to two or three offspring in a litter.

According to researchers, the Pacific pocket mouse was thought to be extinct in the 1980s, but was rediscovered in 1993. Today, the species only exists at three sites along the California coast, including Dana Point, Santa Margarita and South San Mateo.
Scientists working on this captive breeding program expect to increase the overall population.
The mission of the San Diego Zoo Global Wildlife Conservancy is to bring endangered species back from the brink of extinction.