Two women walked into the Encinitas WalMart on a recent Saturday evening and walked out with two 55-inch televisions without paying for them, according to the San Diego County Sheriff's Department.
The brazen theft was captured on store surveillance video and now deputies are sharing the images in the hopes of someone providing information leading to arrests.
The two women walked into the WalMart on Leucadia Boulevard just before 6 p.m. on Saturday, February 25.
Eight minutes later, one of them walked out pushing a shopping cart with two 55-inch Samsung televisions worth approximately $1,600. Deputies said the women failed to stop and pay for the items.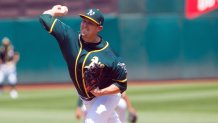 Anyone with information on the suspects or the incident can call the North Coastal Sheriff's Station at (760) 966-3500 or the Crime Stoppers anonymous tip line at (888) 580-8477. Crime Stoppers is offering up to a $1,000 reward to anyone with information that leads to an arrest in this case. Anonymous email and text messages can be sent in via www.sdcrimestoppers.org .