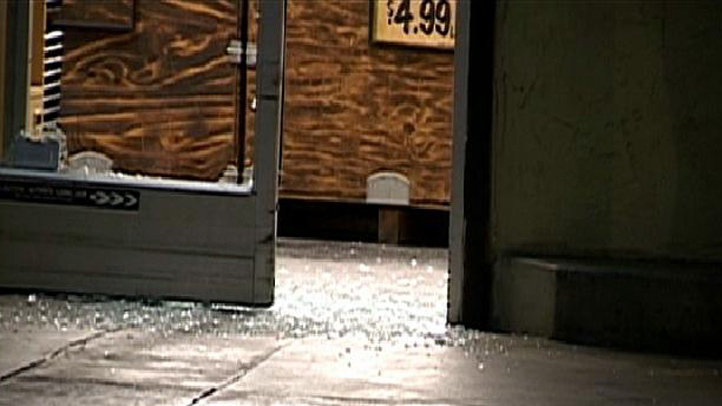 Deputies searched Wednesday for a man who fired shots inside a closed North County grocery store.
The suspect, dressed in dark clothing and a ski mask, was carrying a large gun when he tried to pry open the doors at the Sprouts Farmers Market on Encinitas Boulevard.
The employees and surveillance video show that the man, who was wearing dark blue clothes and a ski mask, tried to pry open the front sliding doors.
When the doors wouldn't open he used a large rifle to shoot bullets into the glass.
He walked through the door directly to the office where he fired an additional five rounds to open that door.
Once inside of the office, the intruder stole an unknown amount of money from the store safe.
Three employees were just starting their shifts inside the store at 1:22 a.m. when the robbery happened. One called 911 after the suspect ran away.
He was last seen running into a residential area behind the store. Helicopters and patrols did not find the suspect.
A Sprouts employee who was inside the store at the time says he heard at least 10 rounds of gunfire.
He saw the man's gun and believes it was an AK-47. Deputies have not confirmed the type of rifle used in the crime.
No one was injured. The store was cleaned up the damage left behind including a smashed front glass door and bullet holes in the back of the store and reopened as scheduled Wednesday morning.
Anyone with information is asked to call the San Diego County Sheriff's Department.
Keep up to date on breaking news: Download our improved iPhone app, follow us on Twitter @nbcsandiego, fan us on Facebook, sign up for our breaking news e-mail alerts or text SDBREAKING to 622339 to receive text messages for local breaking news. (For more info, text HELP. To end, text STOP. Message and data rates may apply.)