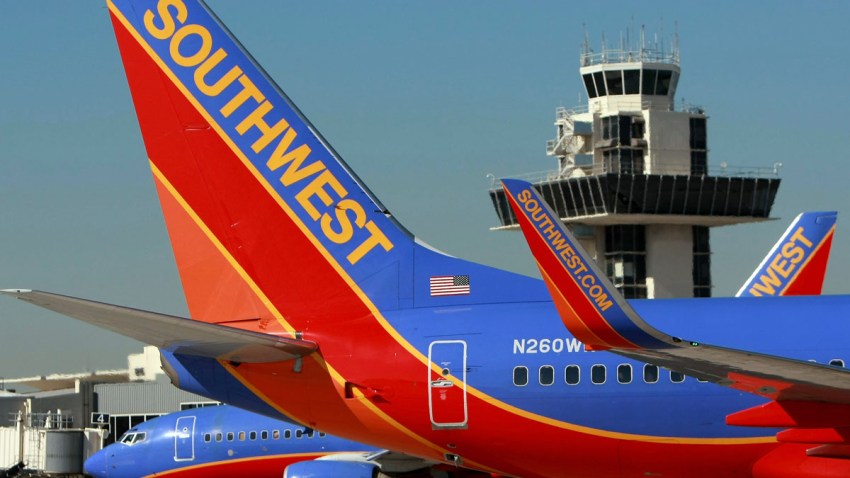 Southwest Flight 1588 scheduled to fly from Oakland to San Diego on Sunday night made an emergency landing in Los Angeles shortly after 8:00 p.m. due to mechanical problems.
Passengers on the flight said they noticed a smell in the cabin similar to exhaust fumes from a car.
"We saw a flight attendant sprinting down the aisle and we knew something was wrong," said Rachel Shapiro, a student at San Diego State University.
Passengers said the pilot made an announcement shortly after.
"The pilot said there was a fire on the butane line that provides cooling for the cabin," said San Diego resident John Snyder, "Then he told everyone to turn off the overhead lights."
While some passengers admitted being worried, they said most people remained calm throughout the ordeal.
Snyder said emergency crews, including roughly 10 fire trucks, were waiting on the ground during landing at LAX.
One passenger said he boarded another plane and then arrived in San Diego at approximately 10:30 p.m.
Shapiro said passengers were relieved. "Everyone clapped when we landed, both times," she said.
Southwest spokesperson Whitney Eichinger said no one was hurt in the incident that was "completely unrelated to the issue in Arizona."
On Friday, a flight from Phoenix, bound for Sacramento made an emergency landing in Yuma, Arizona after a hole opened up in the fuselage causing a loss in cabin pressure. Some passengers lost consciousness due to the loss in cabin pressure at 34,500 feet.
Sunday's aircraft was also a Boeing 737-300, the same model of aircraft involved in the Phoenix flight.
Hundreds of flights were canceled on Saturday and Sunday after the airline grounded its Boeing 737 aircraft.
Nineteen planes had gone through the inspection and were cleared to return to service, according to a Southwest news release.
"In two other airplanes, the testing did detect small, subsurface cracks," the release stated. Southwest will check those planes to see what needs to be done before they can be back in service.
Southwest expects to complete the inspection of all Southwest 737-300's by late Tuesday. They suggest passengers check in on flight status using the Southwest website for any potential changes to their flights.
NTSB board member Robert Sumwalt said Boeing was developing a "service bulletin" for all 737-300 models with comparable flight cycle time as the Arizona jet, which was 15 years old and had about 39,000 takeoff and landing cycles.
There are 931 such models in service worldwide, 288 of which in the U.S. fleet.
Keep up to date on breaking news: Follow us on Twitter @nbcsandiego, fan us on Facebook, sign up for our breaking news e-mail alerts or text SDBREAKING to 622339 to receive text messages for local breaking news. (Standard rates apply)
Copyright AP - Associated Press