An emaciated, severely neglected dog abandoned in San Pasqual Valley last week is still in critical condition, his body so fragile that veterinarians are having a hard time nourishing him, the San Diego Humane Society said.
"The dog discovered emaciated in Bandy Canyon on Friday, March 1 is still fighting for his life," said Dariel Walker, of the San Diego Humane Society. "Veterinarians at San Diego Humane Society consider him in critical condition."
Walker said with emaciation as severe as this case, it'll take about seven to 10 days to know if the dog "will be able to turn the corner."
The pit bull mix was found curled up in vegetation, cold and alone, on March 1 at Bandy Canyon in San Pasqual Valley, a rural area east of Interstate 15 and south of Escondido.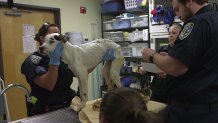 The dog, which appears to be about 2 years old, was so neglected, he weighed less than 20 pounds. He was also extremely dehydrated and had pressure sores on his hips and knees.
The pooch was taken to the San Diego Humane Society's Escondido campus for medical treatment. SDHS Law Enforcement Sgt. Laurel Monreal said the dog was lethargic and extremely weak.
He was given IV fluids, a bath, food and lots of attention.
But while the dog did respond well to the emergency care, pets and snuggles last week, Walker said the recovery process is complicated for an animal in this sort of state.
"The re-feeding process is a slow and delicate balance. Even re-hydrating the little guy is challenging at this stage as it is very easy to overload his fragile body right now," Walker explained. "Our staff is doing everything they can to get this sweet dog better and help him in his fight."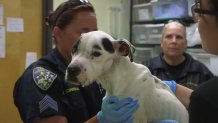 Walker said the SDHS has received several tips on this case over the past few days and investigators are looking into possible leads. Due to the critical condition of the dog, the SDHS said the case is a felony animal cruelty investigation.
Anyone with information that will help identify who left the dog in Bandy Canyon and who neglected the animal so severely can reach out to Crime Stoppers at (888) 580-8477. Crime Stoppers is offering a reward of up to $1,000 for information leading to an arrest in this case. Information can also be reported to SDHS's Law Enforcement at (619) 299-7012.