Some big names in music came together Wednesday to support the victims of a North County San Diego wildfire that scorched 4,100 acres of land, destroyed dozens of homes, killed 46 horses and injured two trainers last month.
Singer-Songwriter Burt Bacharach teamed up with fellow Grammy-winning rock icon Elvis Costello, and some other celebrity friends, including actress Bo Derek, to host a fundraiser at the Belly Up billed as "An Evening of Music To Support the Victims of the Fire at San Luis Rey Downs Training Center."
The Lilac Fire erupted along the Interstate 15 and State Route 76 interchange near Bonsall on Dec. 7, 2017.
The San Luis Rey Downs horse training facility was directly in the path of the fast-moving fire. Trainers and other employees rushed to free as many of the hundreds of elite training horses as possible before flames overtook the ranch.
In the hazy confusion, horses worth hundreds of thousands of dollars that are usually carefully walked from place to place were simply set free and encouraged to run away.

The fire killed 46 horses.
Two horse trainers were severely burned trying to save the animals that meant the world to them. Trainer Martine Bellocq awoke from a coma last week, apparently after being told happy news -- one of those horses that escaped the Lilac fire placed second in a recent race.
Trainer Joe Herrick and his prized horse Lovely Finish were hit by a fireball of flames that day, but both are on the road to recovery.
Wednesday's benefit concert aimed to help them, and the dozens of other trainers and horses who were affected that day. Funds raised at the event will go to the California Thoroughbred Horseman's Foundation and the California Retirement Management Account. Proceeds will be split between the two organizations.
If you missed the show and want to help victims of the fire, you can make contributions through the two organizations' websites.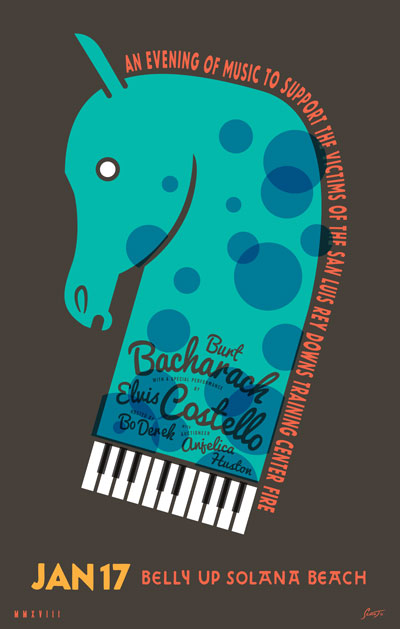 Bacharach -- a horse owner and racing fan for more than 50 years (and who spends summers at his Del Mar house) -- was horrified when the Lilac Fire ravaged the horse-training facility in Bonsall.
"Horses and horse racing have given me nothing but pleasure for the last half-century," Bacharach said in a Del Mar Thoroughbred Club (DMTC) press release last month.
"The horrible circumstances around the San Luis Rey Downs fire cry out for aid in so many ways. This is my way of giving back to the horse community."
The event was emceed by actress Bo Derek, a long-time horse advocate and former commissioner of the California Horse Racing Board. Both Derek and Academy Award-winning actress/animal activist Anjelica Huston presided over a live auction that took place prior to the show.
Belly Up Entertainment President Chris Goldsmith told SoundDiego the venue was thrilled when Bacharach approached them about the fundraiser and was eager to help.
"The benefit was Burt's idea, because of his love of horses and the people who care for them," he said. "[Bacharach] has played the club on his own but for this event, he wanted to make it more than a regular concert so he invited some of his personal friends to help make it an 'event.' He succeeded in a big way!
Goldsmith added: "Burt has been a great part of the Belly Up's history and we're pleased to be able to provide a home for this amazing event, especially if it helps out such a tragic situation as what happened at San Luis Rey Downs."
Bacharach and Costello have joined forces before. In 1998, Bacharach and Costello collaborated on the album, "Painted from Memory," a successful pairing that earned the two the 1998 Grammy Award for Best Pop Collaboration With Vocals for their song "I Still Have That Other Girl."
Before that, Costello -- a long-time Bacharach fan -- had recorded several popular cover versions of the famed composer's songs, including "I Just Don't Know What to Do With Myself" and "I'll Never Fall in Love Again" (most notably featured in the film "Austin Powers: The Spy Who Shagged Me").