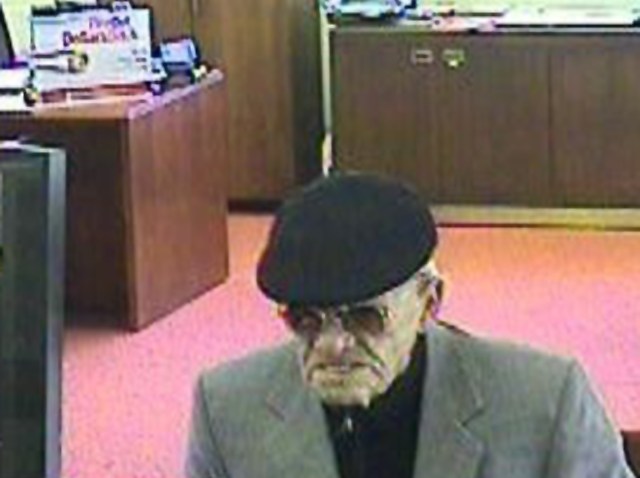 Hey, your grandfather knocked over another bank -- this time he left the oxygen tank home.

The FBI said on Tuesday that it's seeking the public's help finding the very elderly man responsible for robbing four banks, including one on Tuesday in Rancho Santa Fe. His other stickups have been in Santee, La Jolla and Carmel Mountain Ranch.

The nattily dressed gent has been caught repeatedly by surveillance cameras during his holdups, including Monday at about 10 a.m. at the Bank of America on Avenida de Acacias. The feds say the tweed-wearing robber flashed a piece prior to handing a teller a note demanding cash, then fled -- slowly, we're guessing -- on foot with an unknown amount of money.

When he hit the La Jolla bank on Ivanhoe Avenue in September, he had a gray mustache, white beret and argyle sweater, and accessorized with what may have been an oxygen tank.

The bank robber is 60 to 70 years of age, with gray facial hair, according to the FBI, but to us he looks a lot closer to 80. Maybe that's just what a life of crime can do to a guy.