Tens of thousands of residents in 'unique' 100-year flood zones may be susceptible to damage during the upcoming El Nino, according to a new report by the National University System Institute for Policy Research (NUSIPR).
The upcoming El Nino, predicted to be one of the strongest compared to the 1997 event, will dump heavy rains on Southern California and bring an especially wet winter to the region.
Past El Ninos have left millions of dollars in economic losses and have had a widespread physical impact on San Diego County, NUSIPR found.
But for the hundreds of thousands of county residents that live in susceptible areas, that rainfall may be more of a danger.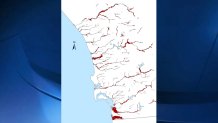 "We looked at some of the prior records of what El Nino has done and what we found is there are some unique flood zones in San Diego County and in them about 22,000 houses are located there," said Vince Vasquez with NUSIPR.
Across the county, approximately 55,000 residents live in areas susceptible to flooding and approximately 5,000 businesses are located in areas more susceptible to flooding, NUSIPR found by using GIS software.
That number makes up nearly two percent of the total population across the region and 4.8 percent of total businesses across the county.
"We really don't know what's going to happen this year; we've had weak storm fronts we've had some pretty severe ones, if you look back in '97 or '98," said Vasquez.
Blanca Robles, a Logan Heights resident, said she has been trying to get in touch with the city about the upcoming El Nino. She described a 2004 flood when heavy rains raised Chollas Creek behind her home.
"This place is not one you would think would flood," Robles said in Spanish. "It's a residential area, the beach is far away However, the only reason it does is the canal."
She said that same creek almost came over the top just two weeks ago – and does so almost every time it rains. Her daughter, Liz, is worried about the rainfall.
"If that was only two hours, can you just imagine the whole Nino?" Liz said.
The 1997-98 El Nino storm, considered one of the strongest, caused $804 million in economic loss across California. The 1982-83 El Nino resulted in $2.04 billion in economic losses across the state and more than 6,500 homes were destroyed.
During an El Nino event, the tourism and agriculture industries will likely be the most affected. The study predicted that attendance at theme parks and at the zoo may drop in the face of heavy rain and flooding, as parks reported during other strong El Nino seasons. Commercial agriculture, which generated $1.85 billion in 2013, could suffer during an El Nino season, though past research indicates that crops have suffered and thrived in the face of such conditions. Strong winds during an El Nino can be a concern, as they tend to knock crops down.
However, NUSIPR found there may be some economic benefits associated with the coming El Nino. Warmer winters and reduced snowfall mean many people will save money on heating. City officials will save money on clearing streets of ice and snow. Many may experience better health when temperatures do not dip as low.