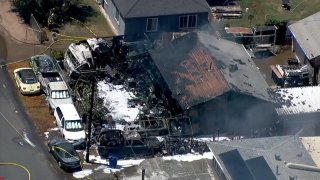 One person is dead after a fire sparked during an eviction in El Cajon Friday, police said.
San Diego County Sheriff Deputies attempted to serve a "family-initiated eviction" on the resident who lived on the 1200 block of Redwood Avenue.
Once they got to the residence and received no answer, they tried to enter the front door which they discovered had been barricaded from the inside. Then, several flammable devices and flammable liquid was thrown in the direction of the deputies, immediately catching the house on fire, El Cajon Police said.
As the house was in flames, a woman believed to be the resident's girlfriend, escaped the house through a window and was taken to safety by officials. The woman confirmed the man was still inside the residence.
The fire was extinguished by Heartland Fire and Rescue and San Miguel Fire Protection Unit. The Bomb/Arson Unit of the San Diego County Sheriff's responded to the scene, police said.
Once the fire was put out, El Cajon Police officers conducted a search of the completely burned house. Officers discovered burned remains of an individual in a bathroom of the home. The identity of that person has not been determined pending forensic examination, police said.
No other persons were believed to be inside the home when it burned and police are not looking for any outstanding suspects. Police confirmed there is no threat to the public at this time.
No deputies or firefighters were injured. The home was determined to be a total loss and neighboring structures were damaged by the fire.
The woman, described to be in her 60s, was taken to a local hospital and is being treated with non-life threatening moderate burns. The resident, described as a man in his 60s, has been identified but his name is not being released at this time pending notification of family.
The El Cajon Police Department is asking that anyone with information regarding these incidents to call the El Cajon Police Department at (619) 579-3311 or San Diego Crime Stoppers at (888) 580-8477.
No other information was available.
Please refresh this page for updates on this story. Details may change as more information becomes available.