Don't miss out on the chance to get a delicious Easter brunch, hunt for some colorful eggs or high-five the Easter Bunny this weekend. Several of San Diego's landmark hotels and institutions are ready to celebrate.
The Inn at Rancho Santa Fe will host an Easter brunch buffet and egg hunt Sunday. Children aged 2-5 can hunt for eggs at 11 a.m. and ages 6-10 is at 12 p.m. Brunch is $95 for adults and $30 for kids.
Children of all ages can look for Easter eggs on the Hotel Del Coronado's Windsor Lawn. Egg hunts are at 10 a.m. and 12 p.m. for children ages 1-4; 10:20 a.m. and 12:20 p.m. for ages 5-7; 10:40 a.m. and 12:40 p.m. ages 8-12. The Easter Bunny will be available to take photos from 10 a.m. to 2 p.m. An Easter Champagne Brunch will be available in the Crown Room. Adults are $140; children are $55. All events are on Sunday.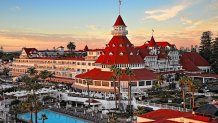 Brunch and Bubbly in the Ballroom will be served at Fairmont Grand Del Mar from 10 a.m. to 2 p.m. Sunday. The menu is $118 for adults and $30 for children. Easter Brunch at Amaya will be served from 11 a.m. to 3:30 p.m. and starts at $95 for adults. The Grand Hunt and Family Activities starts at 11 a.m. and the hunt is at 12:30 p.m. There will be face painting, cookie decorating, sack races and a visit from the Easter Bunny.
Birch Aquarium will host the last Spring Eggstravaganza from 11 a.m. to 3 p.m. Kids can explore animal eggs, create a shark egg craft and do an underwater egg hunt. Scuba Bunny will make a special appearance. The Eggstravaganza is included with aquarium admission.
The Easter Bash in Belmont Park goes from 9 a.m. to 1 p.m. Sunday and includes three egg hunts – at the beach, the park and the shops. Kids can also get photos with the Easter Bunny. The cost is $5 per child.
The Prado at Balboa Park's Champagne Buffet Brunch will start at 10 a.m. Sunday. It is $64.95 for adults and $17.95 for children. The buffet features omelets, pancakes, prime rib and more.