Two medical students from UC San Diego were killed and three others injured in a wrong-way crash on State Route 163 Saturday, in which a 21-year-old suspect faces DUI and vehicular manslaughter charges.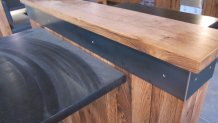 The UC San Diego community is planning a memorial service, set for Wednesday night, for Anne Li Baldock, 24, and Madison Elizabeth Cornwell, 23. Baldock, whose family is from Seattle, was living in an apartment near campus while in her second year at UCSD Medical School. Cornwell, another second-year medical student, was from Mission Viejo.
"We're processing a lot of the tragedy and loss that frankly we're going to be treating and facing in the clinic," said fellow medical student Brandon Williams. "Now it's coming home. It's personal."
Although both were wearing seat belts, Baldock and Cornwell were killed when the Toyota Prius they were in was struck head-on just after 1:30 a.m. Saturday on SR-163 in the Mission Valley area.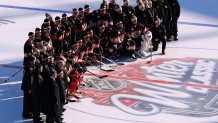 Three other medical students — Jared Molitoris, Yuki Iizuka and Stosh Ozog — were injured in the crash.
The wrong-way driver, identified by the California Highway Patrol as Jason Riley King, was taken into custody after the Saturday crash. He was injured and will likely be arraigned at the UCSD Medical Center in the next few days on two counts of vehicular manslaughter and five counts of felony DUI, officials said Monday.
"I'm of two minds about it," said Williams. "I'm angry because there's such real consequences for something like this. At the same time, I really hope that this brings home more of the impact of if you're drinking and you have a problem, get help."
According to the California Highway Patrol, King was driving a white pickup truck and was flashing his hazard lights while driving the wrong way on the freeway. That driver plowed into the Prius, totaling the car, killing the two women.
[G] 2 Killed in Wrong-Way Freeway Crash
On Monday, UC San Diego confirmed its students were involved in the crash and released this statement:
"This is a terrible loss for the UC San Diego community. We send our condolences to the families and friends of the students. Our thoughts and prayers are with everyone involved."