The woman behind the wheel of the car that drove into a group of cyclists, sending several to the hospital with serious injuries, was under the influence of drugs officials said Wednesday.
Theresa Lynn Owens, 49, has been arrested on charges of driving under the influence of a controlled substance and possession of a controlled substance.
San Diego police said Owens was driving her vehicle on Fiesta Island Road around 6:30 p.m. when her car struck a number of cyclists who were finishing up a training ride.
Two cyclists who hit the windshield were pinned in the glass, officers said. Witnesses said one cyclist suffered a broken facial bone and another suffered a punctured lung.
Cyclist Juan Barrintos who was hurt in his arm, knee and ankle was at the head of the pack of riders and estimated the woman was driving 30 to 40 mph in a 10 to 15 mph zone.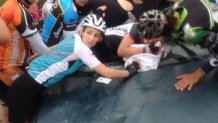 Cyclist Joel Price was among those who suffered minor injuries in the crash. He told NBC 7 it was a tragic incident because Fiesta Island is considered one of the safest places to ride in San Diego.
NBC 7 obtained court records that show Owens has had a history of possession of illegal drugs, disturbing the peace and intent to commit theft dating back to 2006.