The man who consumed at least a dozen drinks before stepping behind the wheel of a car, fatally hitting a mother near Cowles Mountain, stood before her family in court Tuesday, apologizing for his actions.
"It is my goal to share my story with others and prevent this from happening to more families; I am truly and deeply sorry," said Joshua Taylor.
Taylor accepted a 15 to life prison term in exchange for a guilty plea during a pretrial hearing, according to the San Diego County District Attorney's Office. He was formally sentenced Tuesday.
Taylor struck Rocio Leamon, 38, while she was crossing Navajo Road on her daily walk to Cowles Mountain. Leamon crossed the road while the pedestrian crossing signal was lighted.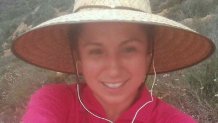 Taylor ran the red light and struck Leamon, throwing her a combined 81 feet down the road.
Leamon's son, Alexander, was one of many speakers at the emotional sentencing.
"I'm sorry you're here today, and I'm sorry that I'm here today, and I just want my mom back, but I'll never get her back," Alexander said to the defendant. "I forgive you because I know, down the line, I'm going to forgive you. I forgive you."
Leamon's family remembered their lost wife and mother as the type of woman who would light up a room.
"Rocio would light up the room with her smile and fill it with laughter," said Victor Leamon, her husband. "She was the kind of person that everyone wanted to be around and she was always the life of the party."
Taylor, who had prior DUI convictions, apologized to the Leamon family. He said a day won't go by that Rocio and her family won't be in his thoughts.
During testimony, authorities said at the time of the crash, Taylor had a blood alcohol level of .23 percent, nearly four times the legal limit, the equivalent of 12 to 13 drinks.
Authorities testified that after the crash, Taylor ditched a vodka bottle in the bushes as he tried to get rid of incriminating evidence.