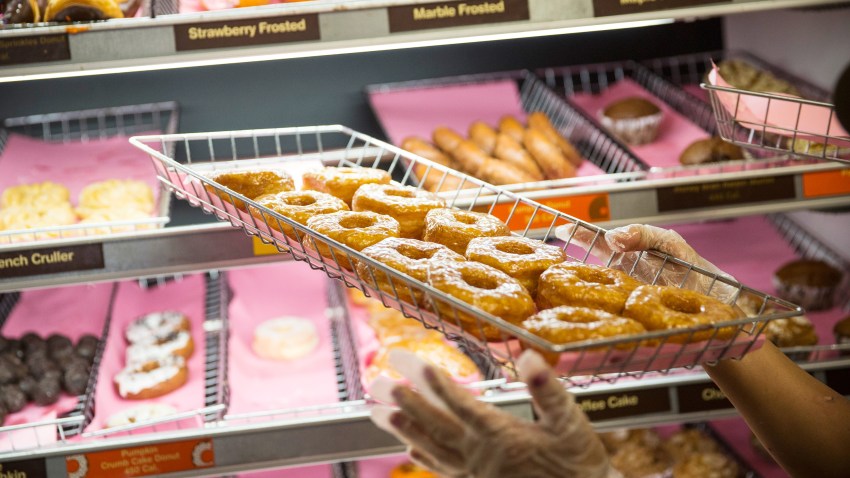 National City has gotten a sweet sign: a new Dunkin' Donuts location, complete with a full-service drive-thru window, will soon open up shop in the area.
Part of the popular chain of eateries headquartered in Massachusetts, this new Dunkin' Donuts store is located at East Plaza Boulevard and Interstate 805, and is highly visible from the freeway.
Boardwalk Development, Inc., signed a lease with Dunkin' Donuts to create the new restaurant. The site has been under construction for several months.
Recently, a shiny new sign went up at the site, symbolizing the opening of the shop is so close, locals can practically taste it.
In late July, Ron Bamberger, president of Boardwalk Development, Inc., told NBC 7 a fall debut was expected for the Dunkin Donuts location. He said the store planned to host a grand opening celebration when it officially opened for business.
He confirmed Tuesday it was not yet open.
Bamberger said the shop's proximity to the freeway is a substantial benefit and will be convenient for morning commuters who want to pop in and out of the location quickly as they grab a doughnut on their way to work.
Bamberger said the business is on the morning side of the freeway -- the side of the street where the bulk of morning rush hour traffic occurs.
"The expectations are that it will be a very busy location," said Bamberger.
According to Sonya Modi, public relations specialist from Havas Formula, the company representing the project, this store will be the second Dunkin' Donuts drive-thru in San Diego County. She too said a grand celebration was in the works for the big opening day.
The first Dunkin' Donuts drive-thru is in Ramona, though that location is a Dunkin' Donuts and Baskin-Robbins combo store, so this National City shop will be the first freestanding local Dunkin' Donuts drive-thru in San Diego County.
In late July, Modi told NBC 7 the National City location is expected to create about 100 new jobs for local residents. Bamberger said positions would include front and back-of-the-house, as well as management.
The new restaurant is locally owned and operated by a disabled U.S. veteran who lives in San Diego County, Modi said.
Two years ago, Dunkin Donuts announced it planned to open its first traditional restaurants in California over the coming years. This plan included 14 restaurants San Diego County, with the first opening in 2016.
Modi told NBC 7 that after the National City location opens, there are two other San Diego County Dunkin' Donuts slated to open this year: one in El Cajon and the other at Naval Air Station North Island.
Currently, San Diego County is home to four Dunkin' Donuts locations: an outpost at the Embassy Suites Hotel in downtown San Diego (601 Pacific Highway); a shop at Naval Medical Center San Diego's Building 1 (34800 Bob Wilson Dr.); a shop at MCAS Miramar's Building 5305; and the Ramona Dunkin' Donuts/Baskin-Robbins location (1410 Main St.).
Dunkin' Donuts was founded in 1950 by Bill Rosenberg in Quincy, Massachusetts. Today, the company has a cult following as the world's leading baked goods and coffee chain, serving more than 3 million customers daily and selling 52 varieties of doughnuts.