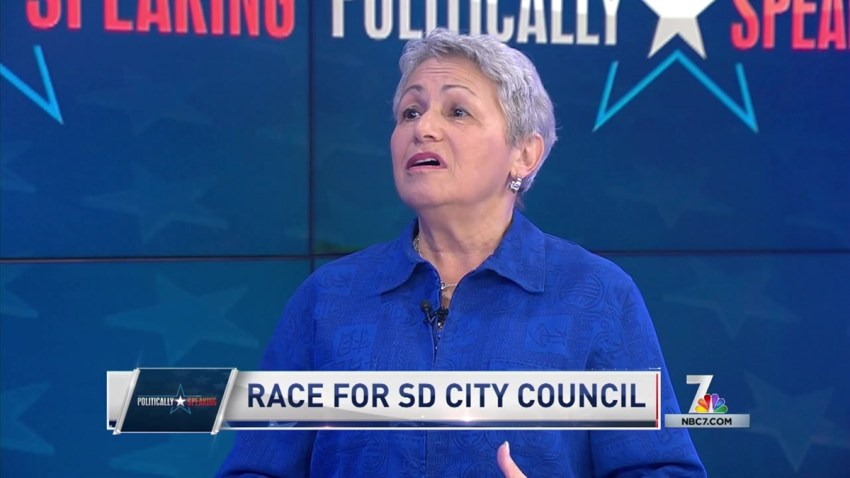 Dr. Jennifer Campbell, who is one of five people running for District 2 City Council member Lori Zapf's seat, says it's time for change. "The demographics of the area have changed tremendously over the last few years," she told NBC 7's Gene Cubbison on Politically Speaking Sunday. She also cited that the rules for the election have changed now that the top two from the primary will face each other in the fall. "I think if she makes it through the primary she'll have a challenger, and she'll have to go to November and I think she will go into retirement," she said.
Campbell said Zapf, who is running for her third term, when council members are limited to two terms, found a loophole in the law.
Homelessness
Campbell has specific ideas when it comes to solving the homelessness crisis.
She says there are evidence-based studies from other cities that show how to solve the problem. "Of course it may not ever totally go away, but these other cities have found that 90 percent of their homeless problem is resolved if they follow the plan of housing first and wrap around services [second]," she explained. "If all the service providers unite … and they work together, they're able to get the chronic homeless into some housing and then they deal with the problems that each individual homeless person has, and they help them to become participating members of society again."
Ten–year studies from other cities have shown that 90 to 95 percent of people do not become homeless again, according to Campbell.
Funding for homeless housing is a significant obstacle, but, Campbell said due to the strong economy they have more resources and access to new funding to pay for housing. "There's hope for a good future for our homeless citizens," she said.
Short-Term Rentals
Campbell says short-term rentals have been unregulated for four years and the city will have to "make some new regulations and definitions."
"We understand that some people, in order to make ends meet, want to participate in these new electronic platforms and rent out a space if they have extra space in their home – and that's perfectly allowable so long as they are there and they're in charge, that's fine – the problems occur when someone from outside buys a property, chases the renters out (if it's rented) and then changes it into an Airbnb with … people coming in and out from out of town and causing problems." District 2 has the highest number of short-term rentals.
Campbell is a former statewide president of the California Democratic Council and 2016 Democratic Convention delegate.