A San Diego homeowner shot and killed his neighbor's dog when the animal ran across the street and attacked him and his dog Monday.
Hours later, the dog's owner was screaming in the street, still visibly shaken by her pet's death and calling the shooting "malicious."
San Diego police officers say Lee Pattison was justified in the shooting of a pit bull on Duluth Road in Valencia Park Monday around 8:30 p.m.
When the pizza delivery man arrived at Pattison's home, the neighbor's pit bull ran onto his property and attacked him and his Husky officers said.
Pattison, a Navy diver, tried to break up the fight. When the dog bit him in the leg, he went inside to get his shotgun.
He claims he hit it several times with the butt of the gun and then finally pulled the trigger once killing the pit bull instantly.
"I was hitting the dog as hard as I could, nothing. The dog was just all muscle, so there's nothing else I could do," Pattison told NBC 7 News.
The dead dog's owner took out her anger and sadness by screaming from her porch across the street at her neighbor.
"My dog didn't have no gun," she yelled. "That's like my child."
The woman cried out for her pit bull which she claims was a service companion dog.
"You think you in the woods?" she yelled at her neighbor's home. "You can't do that here!"
Pattison said this isn't the first time he's had problems with the pit bull. In fact he'd even threatened to shoot the dog the next time it came on his property.
"I just feel like the dog was unsafe," he said. "I'm not gonna let the dog attack a kid, so once the dog bit me, he doesn't have a problem biting a human, he doesn't have a problem killing a kid."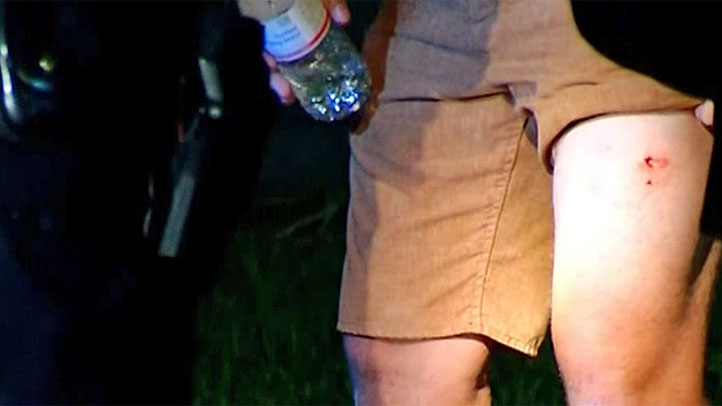 Animal control officers will investigate the shooting and the claims of prior complaints about the pit bull's behavior.
However, San Diego police say Pattison was not arrested and is not facing charges.
"He was trying to protect the pizza man, his dog and the pit bull got into the fight," said Lt. Bennett. "He was legally justified in shooting the dog in self-defense. It was his own property."
Pattison and his Husky have a few puncture wounds, but will recover from their injuries.