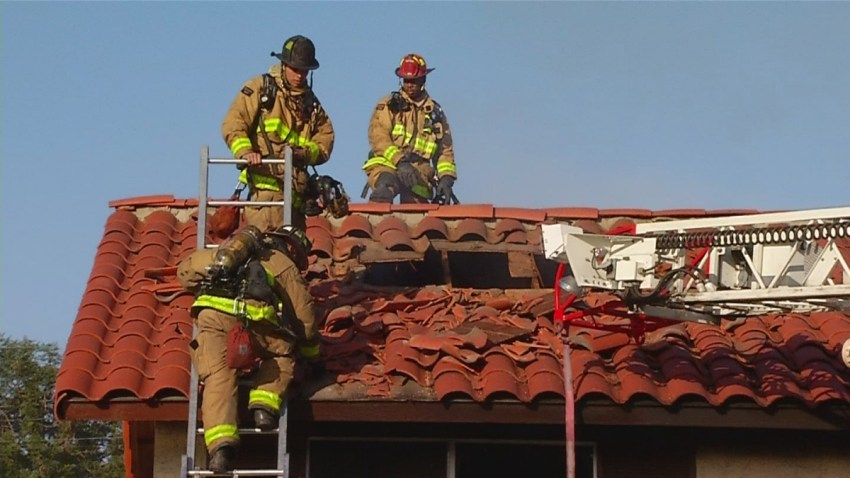 A dog, a cat and bird perished in an early morning apartment fire in North Park, San Diego Fire-Rescue officials said.
The fire broke out at 7:14 a.m. Sunday on the 3700 block of Arnold Avenue, fire officials said.
Battalion Chief Rob Hartman said when crews arrived, they saw flames coming out of all windows and from the front door.
"This thing had already vented through a sky light through the roof, which probably fed the fire pretty good," said Hartman. "That's why, probably, why it was so hot."
Firefighters said it was so hot, it took them four minutes to start breaking through the roof and fighting the fire.
Neighbors that rushed to the scene in the morning said the wild flames made it difficult to help.
"You see fire, you try and get inside, you smell fire and you wake up people," said neighbor Othman Janati. "We try to throw a rock at the window and do your best, but it's hard to feel like there's nothing you can do."
The fire was contained to one apartment. The garage suffered water damage and an adjoining apartment had minor smoke damage.
In cell phone video of the fire, you can hear a man repeatedly screaming to help someone inside.
"He was saying someone is in there," neighbor Chris Ritter said. "Someone is stuck. 'Help, help.' I was hearing banging and someone yelling, 'help!'"
Crews found a man trapped inside and carried him out. He was taken to UC San Diego Medical Center's Burn Center and is in critical condition.
Neighbors said they hoped the elderly man will heal.
"There's so much emotion," said Othman. "I just hope he's okay."
The origin and cause of the fire is unclear, fire officials said.
No further information was immediately available.