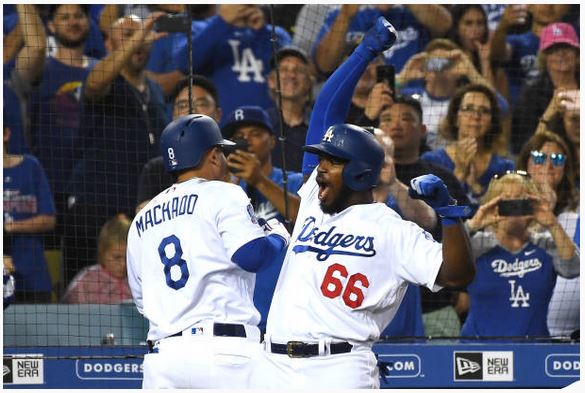 Padres rookie Jacob Nix has been, at times, really good and really bad. That's to be expected for a rookie starter trying to figure out life in the Major Leagues.

Saturday night was a down cycle.

Nix got beat up pretty good by the Dodgers in a 7-2 Los Angeles win at Chavez Ravine. L.A. outfielder Joc Pederson led off the game with a home run but the real trouble came in the 3rd inning.

With two runners on 3rd baseman Justin Turner hit a 2-run double to make it a 3-0 game. Nix then hit Max Muncy and had to try and deal with Manny Machado. Manny Machado is not the guy you want to deal with when there are runners on base.

The soon-to-be $200 million (at the very least) free agent ripped his 36th homer of the year to make it a 6-0 lead and, for all intents and purposes, put this game away. Machado also reached 100 RBI on the long ball. Nix was pulled after just 2.1 innings.

The Padres got on the board in the 6th inning when Hunter Renfroe hit his 25th home run of the season. The Padres only got four hits off Dodgers starter Rich Hill (Renfroe had two of them) in his 7.0 innings.

Former Padre catcher Yasmani Grandal countered the Renfroe homer with a solo shot of his own in the bottom of the 6th off rookie reliever Brad Wieck.
San Diego, who interestingly leads the league in runs scored in the 9th inning, tried to mount a rally with their final three outs. After loading the bases Manuel Margot lined a single to left to score Austin Hedges with one out. After that LA skipper Dave Roberts went to closer Kenley Jansen.
And that was that. Jansen punched out Cory Spangenberg and Travis Jankowksi to secure the win.

The Padres can still win the series against the Dodgers on Sunday afternoon. Joey Lucchesi gets the start against fellow lefty Hyun-Jin Ryu.