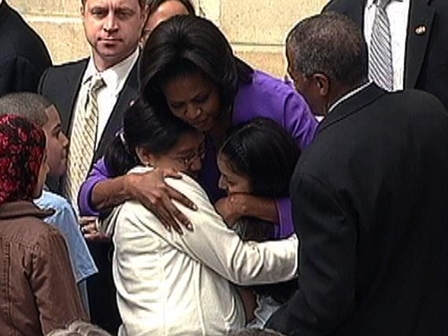 The doctor accused of taking hundreds of nude pictures of his patients, including an 8-year-old girl, has posted the $1.5 million bail for his release.
Jeffery Abrams, 67, walked away from the San Diego Central Jail Tuesday after he was charged with 15 felony counts of sexual penetration of an unconscious victim, eight counts of sexual battery of an unconscious victim and one count of possession of child pornography.
He pleaded not guilty to all the counts at his arraignment Monday.
Eight women have come forward to accuse Abrams of taking advantage of them when they were patients at the Volunteers in San Diego free clinic in El Cajon between June 1, 2010 and June 2014.
Abrams was arrested last week after state investigators said they found more than 1,300 photos of women's vaginas, breasts and buttocks on the doctor's work phone. A search warrant alleges investigators also found a video of a patient touching herself in the exam room with Abrams.
Longtime San Diego residents may remember Abrams from another high-profile story. In the late 1990s, he and his family were rocked by scandal, but this one involved his son Eric.
Eric is Abram's oldest son and in many ways, a hometown hero.
Eric was a straight-A student at La Jolla Country Day and a star high school athlete. Parade Magazine named him National Football Player of the Year in 1991. Then Eric went to play football at Stanford under Coach Bill Walsh.
But in the Bay Area, the scandals began.
In 1996, Eric pleaded no contest to misdemeanor charges of phone harassment. Prosecutors said Eric, posing as a Stanford football scout, asked teen boys to send him naked photos of themselves for recruitment purposes.
Then in 1999 in San Jose, Eric was sentenced to two years in prison, convicted of sex charges involving a 14-year-old boy. Prosecutors said he posed as a Nike salesman to lure a boy inside his apartment.
Now it's Eric's father who faces the charges.
Psychiatrist Dr. Mark Kalish talked with NBC 7 about the similarities between father and son.
"There's no genetic component to sexual deviation. It's not passed on in any fashion. There's no evidence for that," said Kalish.
Dr. Kalish said there is evidence, however, that people who commit crimes like this are more likely to have been victimized themselves.
"It's unusual, that's for sure. It certainly raises the question of whether or not this is learned behavior, and we don't know yet," he said.
Abrams' medical license has been temporarily suspended by the State Medical Board, and he has been ordered to surrender his passport.
If convicted, he could face 40 years in prison. His preliminary hearing is scheduled for Jan. 5.