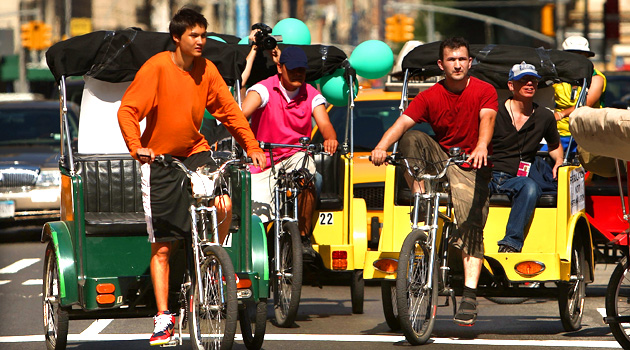 Some unusual stories surfaced this holiday weekend. Take a look at what we found on the police blotters around town:
Assault with a Deadly (Fake) Gem:
Two men, partying in a hotel room in the East Village, got into an argument over whether to have sex or party. The 60-year old man wanted to have sex but the 45-year old man wanted to just drink alcohol and smoke some pot, according to police. When the older man persisted, the younger man grabbed an emerald gem decoration the size of a fist and hit the older man on the side of the head with it, police said. The victim had cuts on the side of his head and was treated at a hospital.
Pedi-Cab Accident:
Two women were riding in a pedi-cab along Harbor Drive Saturday before noon when the driver made what police call an "unsafe movement." One of the women, a 60-year old, fell out of the pedi-cab and hit her head on the sidewalk. The other woman wasn't injured. As of Monday morning, the county's medical examiner declared the woman brain dead. She's been identified as Sharon Miller of Illinois who was in town to attend the National Education Conference.
Car v. Congressman's Office:
This story started Sunday around 1:30 a.m. when Chula Vista police spotted a silver truck on westbound Highway 54 near Woodman Drive. The truck refused to pull over according to police and started driving southbound on I-805 at speeds of up to 110 mph.
The driver took the Bonita Road exit westbound and ignored an officer and a spike strip at Third and F Streets. Then, after hitting the center median on F Street, lost control and slammed into Congressman Bob Filner's office at 333 F Street.
The office had significant damage to the front of the building and the driver had to be pulled from the vehicle by firefighters. There was an open container of alcohol in the car according to police. The man will be charged with felony evading, driving on a suspended license and DUI with priors.