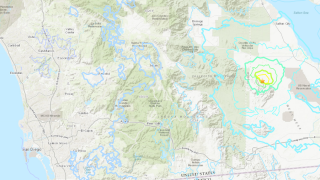 A 4.5 magnitude earthquake originating in Imperial County rocked San Diegans from East Village to Lakeside on Sunday afternoon, according to the United States Geological Survey.
The quake struck at 3:07 p.m. in Imperial County about 10.5 miles southeast of Ocotillo Wells, according to the USGS. It had a depth of 10 kilometers or 6.2 miles.
A USGS map indicates people may have felt the quake from just south of the border to Palm Springs; the quake even rattled the NBC 7 San Diego studio in Kearny Mesa.
A smaller preliminary 3.0 magnitude aftershock occurred at 5:44 p.m., according to the USGS.
Did you feel either of the earthquakes? Consider reporting what you felt to the USGS.