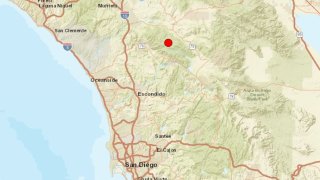 A magnitude 3.3 earthquake struck in Palomar Saturday, according to the United States Geological Survey (USGS).
The quake was reported at 3:46 p.m., and hit north west of the Palomar Observatory, the USGS said.
The quake was felt in Aguanga, Valley Center, Temecula, Warner Springs, Santa Ysabel, Ramona, and La Mesa, according to the USGS. A total of 22 reports were sent to the USGS in response to the quake.