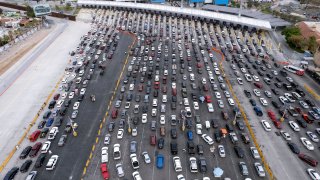 The U.S. Department of Homeland Security (DHS) announced that on Jan. 22, it will start requiring non-U.S. individuals entering the US by land ports of entry or ferry terminals at U.S.-Mexico and U.S.-Canada borders to be fully vaccinated against COVID-19 and provide related proof of vaccination.
DHS said these new restrictions will not apply to U.S. citizens, lawful permanent residents, or U.S. nationals.
"These updated travel requirements reflect the Biden-Harris Administration's commitment to protecting public health while safely facilitating the cross-border trade and travel that is critical to our economy," said Secretary of Homeland Security Alejandro N. Mayorkas.
What to expect during cross-border travel
Non-U.S. individuals traveling to the U.S. whether for essential or non-essential reasons, must:
verbally attest to their COVID-19 vaccination status;
provide proof of  a CDC-approved COVID-19 vaccination, which includes the Pfizer, Moderna, and Johnson & Johnson vaccines used in the U.S. as well as most used overseas, such as AstraZeneca, Covaxin, Covishield, BIBP/Sinopharm and Sinovac.
present a valid Western Hemisphere Travel Initiative (WHTI)-compliant document, such as a valid passport, Trusted Traveler Program Card, or Enhanced Tribal Card;
be prepared to present any other relevant documents requested by a U.S. Customs and Border Protection (CBP) officer during a border inspection, and
meet all other existing requirements for entry not related to COVID-19.
DHS said COVID-19 testing is not required for entry via land or ferry ports of entry.
NBC 7 Border Traffic Module
Download the NBC 7 app for Apple or Android, or the Telemundo 20 app for Apple or Android, to track wait times at the border in real-time. You can also get the latest wait times on the homepage of NBC7.com and Telemundo20.com. Just scroll down to the Border Traffic module.
Non-essential travel resumed on Nov. 8 at the U.S.-Mexico border ending a 19-month freeze due to the COVID-19 pandemic.