After two mistrials, a San Diego judge ruled Friday there will be no retrial in a case involving a 15-time deportee accused in a DUI hit-and-run crash that seriously injured a boy on his way home from Disneyland.
A judge decided there would be no new evidence for either side to present if Constantino Banda, 39, were to be tried a third time, likely resulting in yet another acquittal or possibly a hung jury.
A second mistrial for Banda was declared this past Monday after a jury failed to reach a verdict. The jury's final vote was 7-5 for acquittal.
Banda had been charged with several counts, including driving under the influence, driving without a license and hit-and-run causing bodily injury linked to a crash on May 6, 2017.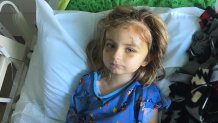 That day, as the Lake family was driving home from a trip to Disneyland, Banda's car collided with the Lake family's vehicle on Camino De La Plaza and Dairy Mart Road in south San Diego's San Ysidro area.
The crash left 6-year-old Lennox Lake unconscious, seriously injured with a fractured skull. His parents, Ingrid and Benjamin Lake, were also in the car but were not hurt. Lennox survived and was released from the hospital a few weeks later.
To this day, the Lake family said Lennox suffers from cognitive issues linked to the injuries he suffered in the crash.
After the collision, Banda allegedly fled the scene.
He was soon stopped and arrested by U.S. Border Patrol agents who determined Banda -- who is a Mexican national -- was in the country illegally. Investigators linked him to the hit-and-run and said he was suspected of driving under the influence.
This wasn't his first time being in the U.S. without proper documentation.
Over the past decade, Banda has been deported 15 times, officials confirmed. His most recent deportation before the crash had been in January 2017, according to U.S. Customs and Border Protection.
Banda pleaded not guilty in the hit-and-run involving the Lake family.
In September 2017, the case went to trial for the first time.
On the day of the crash, Banda was accompanied by a friend in his car. The defense argued that Banda's friend was driving during the collision. Banda has also denied he was behind the wheel.
The prosecution, however, argued that Banda was behind the wheel when police arrived at the accident scene.
In Banda's first trial, the jury was deadlocked and a mistrial was declared. That time around, jurors found Banda guilty of three charges -- driving without a license, battery, and vandalism -- but could not reach an agreement on the DUI and hit-and-run charges.
Following the judge's dismissal for a retrial Friday, an emotional Ingrid Lake told reporters the most difficult part of this ordeal would be having to explain to her son, who is now 7 years old, what will happen with the man who hurt him.
"That the hardest part of this; we've been able to tell him that the person who hurt him is in prison, and we're not going to be able to do that for much longer," Ingrid Lake said. "It's going to be hard to explain to him, why something like this happens, why people don't see any consequences for it."
"Kind of a wild life-lesson to teach a 7-year-old," the mother added.
One juror on the case, Art Castanares, spoke with NBC 7 Friday and talked about how the jury came to acquit Banda. He said that, despite empathy for the Lake family, jurors couldn't convict Banda based on the evidence.
The Deputy District Attorney on this case told NBC 7 Banda will now be transferred into the custody of Immigration and Customs Enforcement.