Signs in hand, hundreds of demonstrators gathered in different parts of San Diego's North County Friday to have their voices peacefully heard in the ongoing fight against racial injustices.
SkyRanger 7 captured a crowd of protestors standing in front of Escondido City Hall on North Broadway just after 2 p.m.
By 6:30 p.m. police were seen blocking East and Westbound lanes on State Route 78 near Interstate 15 blocking protesters from advance further onto the freeway that begins from a roadway in Escondido.
Protesters chanted the names of black lives that had been taken at the hands of police officers, including George Floyd and Breonna Taylor. Eventually, with nowhere to go, protesters took a knee and asked law enforcement officers to do the same.
After a few minutes of chants, an officer on a megaphone could be heard ordering the crowd to disperse. An "unlawful assembly" order was issued.
SkyRanger 7 was at the scene around 7 p.m. where the crowd had made their way back to City Hall. By 11 p.m. only three protesters were left in front of city hall.
"I want everybody to know that the riots are a different segment from the protesters. We are protesting because we think 'enough is enough,'" said protester Lovestar Jean-Baptiste.
The demonstrations marked seven straight days of such events in San Diego County, set off by the killing of George Floyd on May 25 while in the custody of Minneapolis police, as an officer kneeled on his neck for 8 minutes and 46 seconds while he pleaded for air.
Another group of protesters was marching along Carlsbad Boulevard and Carlsbad Village Drive south at about 2 p.m. where Carlsbad police officers followed, calling the demonstration peaceful as it headed to Cannon Park and along Tamarack Avenue.
After arriving at the park the protesters observed 8 minutes and 46 seconds of silence in a solemn representation of the final moments of George Floyd's life.
"Recognizing that Black lives are being lost is the most important thing and that's what we are here to address and here to stop," said protest organizer, Jaelyn Freeman. "With everything going on in America Black lives and voices need to be heard."
The organizers invited different members of the Black community to tell their stories in front of the group.
"It's extremely important that we tell our stories because those are the stories that are not in history books, our experiences are not documented and are not told," Freeman said. "All of these people telling their stories are being brave enough to come out and be in front of this space."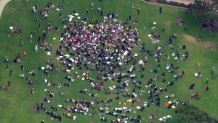 At around 5 p.m. the city of Carlsbad said the protesters were leaving the park following a peaceful gathering and were headed north on Carlsbad Boulevard back to Carlsbad Village Drive.
Protests large and small have formed across San Diego County demanding justice for Floyd, reform on policing, and an end to racial inequality in the United States.
Photos: George Floyd Protests, Unrest Across San Diego
The local protests have spanned La Mesa, downtown San Diego, North Park, Encinitas, and Escondido – and touched major cities across the nation all week.
In San Diego, the demonstrations have remained largely peaceful but, in some instances, including the May 30 gathering in La Mesa, looting, violence, and arson followed as night fell.
On Friday, San Diego County Sheriff Bill Gore addressed the public via the county's daily coronavirus press briefing, to touch on the week's demonstrations.
"When I look at the peaceful protest that I've seen growing around the county, it makes me really proud. And I'm sure that our fellow San Diegans feel that same pride. And I've said it before and I want to say it again, the Sheriff's Department strongly, strongly supports you expressing your 1st amendment rights in these protests," Gore said.
He expressed hope that many members of the protests were young people who truly show a passing for change. He said he saw the passion in his most recent class of Sheriff's deputies, who had hours before graduated from the academy via a virtual ceremony led by Gore.
"I told these new graduates that they're coming into their law enforcement career in the middle of a truly historic time – in the middle of a global-wide pandemic and civil unrest that we haven't seen in decades in this country here and quite literally around the world," he said. "I reminded each one of them that when they put on that badge, that they're responsible for protecting everyone in this community.
The Sheriff's Department has faced criticism this week for their handling of a protest in La Mesa on Saturday that turned to unrest as tension grew between the large crowd of protesters and a line of law enforcement officers. Some community members said unrest didn't begin until officers unleashed tear gas on the crowd. Gore said law enforcement's actions were a response to projectiles being thrown at officers.
"The porch of the La Mesa police department was littered with rocks, bricks, and bottles that had been thrown at La Mesa police officers and deputy sheriff's," he said, adding that any video the department had would be made available following independent investigations.
More protests are expected Friday night in San Diego County, as well as through the weekend.