If you're having a heart attack, cardiologists say getting to the right hospital within 90 minutes is key for survival.
"If you are able to open that artery within 90 minutes, the chances of that patient having a good outcome is excellent," interventional cardiologist Dr. Vimal Nanavati said.
If you're having the most serious kind of heart attack, called an ST elevation myocardial infarction (STEMI), where your heart artery is completely blocked, getting to a STEMI receiving center is critical.
"Every minute counts," said Nanavati.
Thirteen San Diego County hospitals have STEMI receiving centers with catheterization labs that can unclog the blocked arteries in a patient's heart.
Robert Quittner has been a paramedic for over 10 years with San Diego Rural/Metro. He said a contractual agreement between two local hospitals is making him question the profession he loves.
"We became paramedics to take care of people," he said. "We're delaying their care. We're causing more damage to the heart."
Quittner is referring to a 30-year cardiovascular partnership between Kaiser Hospital in Grantville and Scripps Memorial Hospital La Jolla.
Kaiser Hospital does not have a STEMI receiving center, so its STEMI patients are transported to Scripps Memorial Hospital La Jolla for treatment.
Seven of the county's 13 STEMI receiving centers are closer to Kaiser Hospital than Scripps La Jolla, including Scripps Mercy, Alvarado, Sharp Memorial and UCSD Medical Center. Naval Medical Center is also included in the 13 facilities and has a STEMI receiving center.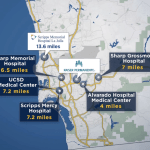 Quittner believes these patients should not be going the extra distance to Scripps La Jolla.
"If that was my family member and they were having an active heart attack and they needed a stent, and I knew that there was an appropriate, just as good facility closer, I would want them taken there," he said. "I would demand that they be taken there."
NBC 7 Investigates asked Kaiser and Scripps to talk about what benefits their partnership had for patients. A Kaiser spokesperson told NBC 7 Investigates he would provide one of the hospital's cardiologists for an on-camera interview. But that never happened, and instead Kaiser sent us a joint statement with Scripps Health.
The statement read:
"Kaiser Permanente and Scripps Health's first priority is the health and well-being of our patients. For more than 30 years, Kaiser Permanente and Scripps Health have partnered to provide cardiovascular care to San Diegans. Through this collaboration, our physicians have worked side by side to deliver high quality care to patients throughout the region. Collectively, our physicians are among the most experienced heart care providers in the state and have made our heart program one of the top 20 in the nation.

Patients who are diagnosed at Kaiser Permanente's San Diego hospital as having a particular type of heart attack known as an "ST elevation myocardial infarction" (STEMI) are stabilized and - when clinically appropriate, based on individual patient condition - rapidly transported to Scripps Memorial Hospital La Jolla where Kaiser Permanente physicians perform a cardiac catheterization. The volume of procedures accomplished at Scripps Memorial Hospital La Jolla by Kaiser Permanente cardiologists makes it one of the leading STEMI treatment sites in the county.

The protocols that Kaiser Permanente has in place with Scripps Health regarding STEMI patients are in accordance with national guidelines established by the American College of Cardiology and the American Heart Association, and are in accordance with the County of San Diego's STEMI Program, so STEMI patients receive the most appropriate, best possible care. We continually assess the guidelines and protocols for STEMI patients so that our program continues its history of success of providing superior care to our San Diego patients."
San Diego Emergency Medical Services is the county agency who ultimately approved the Kaiser/Scripps agreement. NBC 7 Investigates reached out to EMS Medical Director Bruce Haynes but he did not return our calls or emails. But a county spokesperson did email us back saying the Kaiser/Scripps agreement falls within national guidelines.
Even if Kaiser gets patients to Scripps La Jolla in the recommended 90 minutes or less, Nanavati said heart patients should still demand to go to the closest STEMI facility.
"If it were me I would want to go to the closest center because as we know every minute counts," Nanavati said.
Sources in the San Diego Fire Department told NBC7 off-camera some of their employees have also questioned the Kaiser/Scripps agreement.
San Diego Rural Metro Ambulance declined to comment on this story.
NBC 7 Investigates is working for you. If you have more information about this or other story tips, contact us: (619) 578-0393, NBC7Investigates@nbcuni.com. To receive the latest NBC 7 Investigates stories, subscribe to our newsletter.