Ed. Note: On October 23, 2015, prosecutors dropped charges against Robert Noel Anderson and the case was dismissed.
A former elementary school teacher was arrested at his San Diego home, accused of eight counts of child molestation covering a decade.
Robert Noel Anderson, 58, taught fourth and sixth grades at Dehesa Elementary School according to officials at the San Diego County Sheriff's Department.
Anderson was arrested Wednesday at his home in Allied Gardens on allegations he molested several children, officials said.
The cases were reported to have occurred between 2003 and 2013, officials said.
San Diego County Sheriff's Department spokesperson Jan Caldwell told NBC 7 there were eight alleged incidents involving five minors. Most of the alleged victims are now adults, Caldwell said.
Officials aren't saying yet if the children were students of Dehesa Elementary.
Investigators say they got the first complaint about Anderson in 2003 but could not make a case against him for lack of evidence.
"We investigated this all along, but it did not always meet the threshold when we worked with the District Attorney's Office, so we are working with them," said Caldwell. "We didn't close these cases down. We forged ahead and worked them until it culminated in this morning's arrest."
She told NBC 7 Anderson was a popular teacher among students and parents during his 30-year career as an educator.
He remained as a teacher until he resigned in 2006.
The current superintendent could not say whether the allegations had anything to do with Anderson's resignation.
"When you hear something like this it just takes your breath away. It just absolutely-- you don't know whether to be sick or too cry because it is a tragedy for everyone involved," said Janet Wilson, Dehesa Superintendent.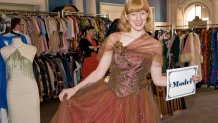 A teacher named Robert Anderson who was employed by Dehesa Elementary retired in 2010, according to Transparent California, a website that tracks compensation of public employees.
Anderson was booked into the San Diego County Jail and is scheduled to be arraigned on Monday, September 15 in El Cajon.
In a letter sent home to parents late Thursday afternoon, the superintendent wrote that none of the children currently enrolled had any contact with Anderson in the classroom.
Anyone with information about this case is asked to call the Child Abuse Unit at (858) 974-2310/after hours at (858) 565-5200 or you may Call Crime Stoppers at (888) 580-8477.