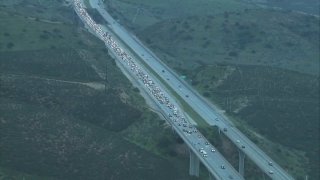 A man was killed early Thursday when the motorcycle he was traveling in crashed into a tractor-trailer on State Route 52, snarling traffic for hours near Santee.
The incident was reported around 5:15 a.m. on SR-52 westbound at Mast Boulevard, according to the California Highway Patrol (CHP). For reasons still under investigation, a motorcyclist crashed into a tractor-trailer and was ejected from the vehicle. He was pronounced dead at the scene.
Authorities did not release the name of the deceased, but described him as a 26-year-old man from La Mesa. The driver of the tractor-trailer, a 34-year-old man from Lakeside, was unharmed in the crash.
As a result of the investigation, the left two lanes of westbound SR-52 were shut down for hours during the early morning commute. They were reopened by 8:30 a.m., CHP said.
It is unclear if drugs or alcohol played a role in the crash, but the incident remains under investigation.
For a look at your total traffic, click here.