Heavy rain showers from a winter storm caused several serious accidents on San Diego's highways.
The rain-slicked roads kept California Highway Patrol officers, tow truck drivers and emergency crews on alert.
Some of the more serious involved big rigs.
In Bonsall, a woman was killed when her Honda Civic crossed into oncoming traffic along SR 76 at Gird Road just before 2 p.m.
An oncoming big rig driven by a Vista man collided with the Civic and essentially split the vehicle in half according to the CHP.
SR 76 was closed in both directions while CHP investigated. No charges are expected to be filed in connection with the accident.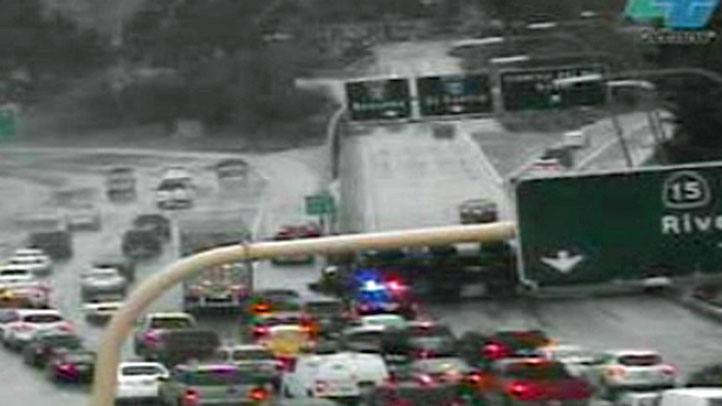 In Mission Valley, a big rig was overturned along the northbound I-15 blocking the transition road to both westbound and eastbound Interstate 8 at 2:30 p.m.
A big rig accident along northbound Interstate 805 between I-905 and Palm Avenue in Chula Vista caused slowing just after 11 a.m. According to SigAlert, traffic was reduced down to one lane.
A truck jackknifed along northbound I-15 in Mission Valley just south of Interstate 8 creating a mess for commuters before 7 a.m.
Also early this morning, a fire battalion chief was involved in an accident along southbound I-15 at Deer Springs Road in San Marcos.
The rain was widespread with pockets of heavier showers appearing in sections of the county. The desert area received a rare heavy downpour.
"We have a lot of food for this storm, a lot of that water, that moist air heading up out of the south," NBC 7 San Diego's meteorologist Jodi Kodesh said referring to the interactive radar showing storm clouds over the South Bay.
The county's environmental health department warned residents of urban runoff at local beaches, which increased the level of bacteria in the water. The department says swimming, surfing and diving should be avoided 72 hours after rainfall.
Some locals heard thunder overnight and that may happen in our area again today. Lightning caused outages for several hundred customers in Escondido.
Bob McElroy with the homeless advocacy group Alpha Project said despite the wet conditions, they were not able to open the long awaited downtown permanent homeless shelter.
Volunteers did hand out a lot of plastic to San Diego's homeless population to help them stay dry though, he said.
Even with the problems associated with the rain, some San Diegans welcome the change in the weather.
"I woke up really happy and we're going to have a good day," said Chula Vista resident Carmen Lugo. "Even if we have rain, it's going to be a good day."