Investigators found 86,000 fatal dosages of an opiate in the home of a San Diego man who bought and sold the substance and other illegal drugs through the dark web.
Sky Justin Gornik, 39, bought and sold controlled substances on the dark web from 2014 to 2017, according to a plea agreement reached Tuesday with federal prosecutors.
Court documents show agents seized 1.7 grams of carfentanil from Gornik's home on Mount Voss Drive in the Clairemont neighborhood in June 2017.
The substance is 10,000 times more potent than morphine and 100 more times potent than fentanyl. Prosecutors said federal agents found enough carfentanil to result in the deaths of 86,000 people.
"A speck of carfentanil the size of a grain of sand can kill you," said U.S. Attorney Adam Braverman in a written release.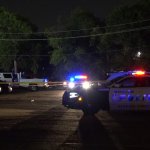 Agents also found sheets of fentanyl gel tablets in Gornik's home numbering 100 tabs per sheet that Gornik purchased from another darknet vendor based in Oklahoma. That vendor has also pleaded guilty to distribution of fentanyl and is awaiting sentencing.
A notebook with USPS tracking numbers and pay/owe sheets along with rolls of labels for printing were also found in the search of Gornik's Clairemont home.
Gornik used anonymous screen names to sell the substances on darknet marketplaces like Alpha Bay, Trade Route, Abraxas, Evolution, Outlaw Market, and Dream Market, according to prosecutors.
He bought and sold thousands of vials of ketamine, oxycodone pills, Dimethyltryptamine (DMT), Psilocybin and Psilocin, Amphetamine, Buprenorphine, Methamphetamine, and Naloxone.
Investigators said Gornik would mail his parcels from the Downtown San Diego Post Office.
As part of his plea deal, Gornik agreed to forfeit millions in cryptocurrencies ranging from Bitcoins, Stratis, Ethereum, and currency in Poloniex and Brittex accounts.
Prosecutors said Gornik hid the funds through virtual wallets and accounts.
"Dark Web vendors beware: your cryptocurrencies are not safe from seizure," Braverman said.
He will serve a mandatory 10-year prison sentence as part of the plea deal.
The investigation was led by U.S. Postal Inspectors in San Diego.
Gornik pled guilty Tuesday before Magistrate Judge Bernard G. Skomal, and will be sentenced by District Court Judge Anthony Battalgia on July 16.