A San Diego-area woman accused of fatally shooting her son-in-law in a home they shared told police she would kill him again if she could, prosecutors revealed in court Tuesday.
Cynthia Cdebaca, 63, is facing one count of first-degree murder for the killing of her daughter's husband, Geoward Flores Eustaquio, 53.
On Feb. 11, which happened to be Cdebaca's birthday, she allegedly shot Eustaquio multiple times inside the home they shared on Braemer Terrace in the gated community of Peppertree Park in Fallbrook.
At Cdebaca's arraignment on Tuesday (pictured below), Deputy District Attorney Tracy Prior said Cdebaca allegedly told police she would kill her son-in-law again if she had the chance.
"She stated that the victim better be dead. She said she did not like him. He did not work. He made her daughter work. And if he were here she would kill him again," said Prior.
Prior said Cdebaca – who fired at Eustaquio at least 15 times, stopping twice to reload – told police her son-in-law made a comment about her clothing just before the shooting.
After the remark, Cdebaca walked upstairs, grabbed a gun and opened fire on Eustaquio. She fired 10 rounds at him from outside the house and five rounds inside, the prosecutor said, making sure he was dead.
"She shot five more rounds at her son-in-law. She recognized that he's still not dead. So, she went back a second time to her car, unloaded the five casings, reloaded five casings and walked back," Prior explained.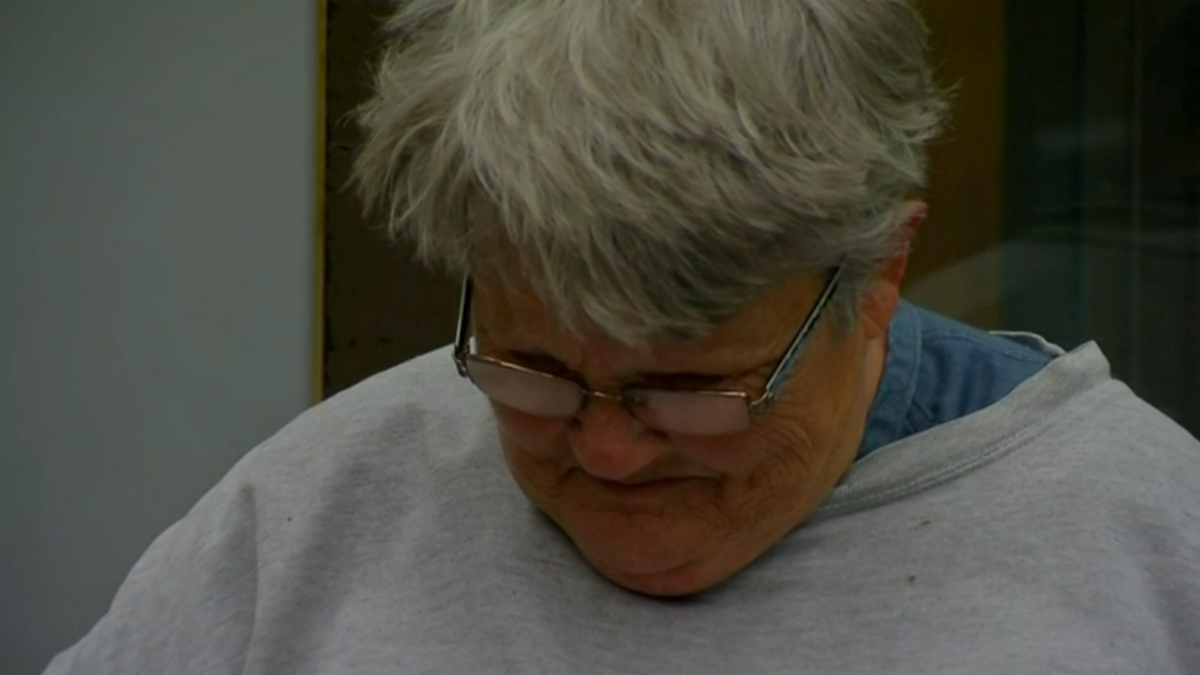 "He was trying to lock the door behind him and get some help. She then took the gun and fired one shot through the door toward the deceased, her son-in-law, who was lying there at that point. She was able to get inside the residence and as he bled on the floor, she stood over him and shot four more shots," she continued.

According to Prior, Cdebaca tossed her weapon into a drainage ditch after the shooting. She then went out to Denny's for breakfast, gambled at Pechanga Resort & Casino, purchased cigarettes at a liquor store and visited her favorite coffee shop in Fallbrook.
Ultimately, deputies tracked her down at that coffee shop and took her into custody later that day.

The deputy DA said Cdebaca had purchased the .38-caliber revolver used in the murder two weeks prior to the deadly shooting and had allegedly been planning to kill Eustaquio.

On the day of the shooting, residents reported hearing multiple gunshots coming from the family's home around 8 a.m. When deputies arrived, they found Eustaquio – a father of four – dead inside the house.
The prosecutor said Eustaquio had sustained 11 or 12 gunshot wounds from the shooting.
At the time of Cdebaca's arrest, deputies did not release information regarding the motive behind the shooting.
The adult sons of the victim, Jordan and Keanu, spoke exclusively with NBC 7 last week about the fatal shooting of their father. They said Cdebaca often disagreed with Eustaquio's "tough love" parenting style and his opinions on raising children may have led to the violence.
Eustaquio's sons described him as a military reservist who "may have been stern" and was "set in his ways." The sons said Eustaquio worked as a real estate agent and a rugby coach for local children.
Jordan told NBC 7 his father did a lot for the family and his community, but could be a difficult person to get along with due to his strong personality. Keanu told NBC 7 their father was hard on them whenever he thought his children weren't doing what they should be doing.
Keanu said at times, Cdebaca would take Eustaquio's parenting methods personally. This created tension in the relationship between Cdebaca and her son-in-law.
Cdebaca lived in the granny flat above the home's garage. Her daughter, Eustaquio and their children lived in the house. The couple had been married for more than 13 years, Prior said.
A judge set Cdebaca's bail at $5 million during her arraignment. The woman's family left the courtroom crying. In the hallway, an emotional family member told NBC 7 "my mom is not a monster."
Cdebaca is scheduled to appear in court again on Feb. 27.
Officials said she had no documented history of domestic violence.