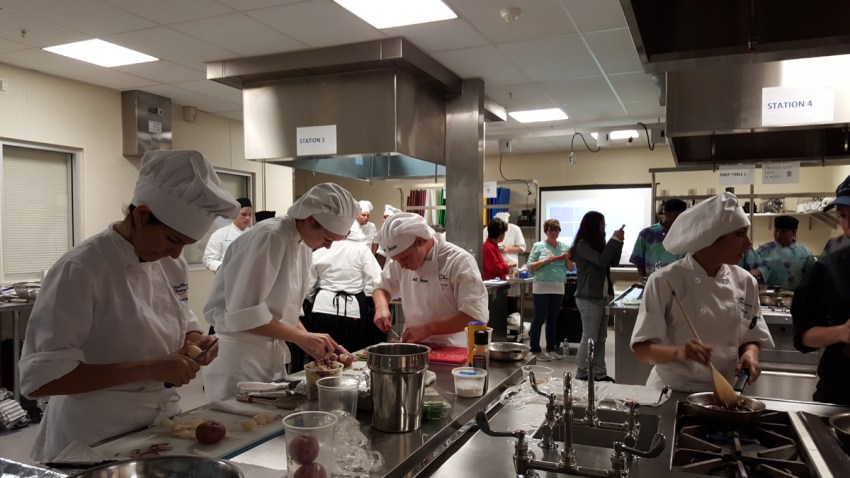 Teams of culinary arts students from 10 high schools across San Diego County went whole hog Tuesday as they battled it out in a cooking competition.
The 2016 San Diego County CTE MasterChefs Competition went down at Orange Glen High School in Escondido, with teams showcasing their culinary talents by whipping up two identical entrées that included five components: protein, starch, vegetable, sauce and an edible garnish.
This year's selected protein was pork, and the students had to cook on two burners in just one hour, organizers said. This marked the third year San Diego County high schools have participated in this competition.
Organizers said teams from the following high schools got in on the action: Escondido; Fallbrook; Mission Hills; Orange Glen; San Dieguito Academy; San Pasqual Academy; San Pasqual High School; Santana; Southwest; Vista.
The students were evaluated by a panel of experts in areas including safety, sanitation, cooking procedures and their finished product. Judges on that panel included some big names in the local culinary scene, including AmyDiBiase, executive chef and general manager at Tidal/Paradise Point Resort & Spa, Ron Oliver, Chef de Cuisine at The Marine Room and Travis Watson, executive chef at the Rancho Bernardo Inn.
In the past, Fallbrook High School and Vista High School have won the competition.
History repeated itself Tuesday, with Vista High School once again taking home the first place victory. Second place went to Escondido High School, and third place to Santana High School.