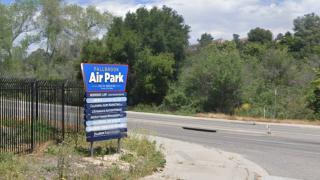 A pilot suffered minor injuries when a plane made a hard landing near the Fallbrook airport on Wednesday, authorities said.
The plane made a rough emergency landing near the Fallbrook Airpark on S. Mission Road north of S. Stage Coach Lane at about 10 a.m., according to the California Highway Patrol.
The single-engine Bellanca Citabria was having engine trouble, according to the Federal Aviation Administration.
After making a successful landing, the pilot, who was alone in the two-seat aircraft, "ran out of runway" and ended up roughly 50 feet past the end of the paved surface, NCFPD Capt. John Choi said.
There was only one person involved in the crash, the pilot, who received minor injuries from the incident, the North County Fire Protection District said. The pilot was taken to Palomar Hospital for treatment.