A masked gunman entered a University City restaurant and held up an employee Monday and now San Diego Police are looking into whether this is part of an ongoing series of armed robberies connected with the so-called "Random Bandits."
Investigators were on the scene of Cozymel's Coastal Mex at La Jolla Village Drive and Genesee Avenue where an employee said the suspect entered after the restaurant had closed using a side door.
The employee told police he was alone and locking up the restaurant just after midnight when the man wearing a black hoodie, white bandana and jeans demanded money.
The suspect was armed with a handgun, police said.
The man then took an undisclosed amount of cash and left.
The restaurant is located in the parking lot adjacent to the Westfield UTC shopping mall.
Detectives will determine if this is a part of a string of robberies that we have seen in the last couple weeks around the county.
The so-called "Random Bandits" are believed to be responsible for at least 10 robberies beginning December 15, most of them in the La Jolla and Clairemont areas.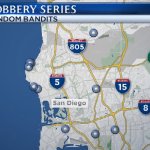 Just last week, the Pacific Shores Inn at Mission Boulevard and Chalcedony Street was robbed by three men in dark clothing and wearing masks. The clerk was pistolwhipped in this incident.
Investigators have not determined if either the UTC or the Pacific Beach crimes are the work of the "Random Bandits."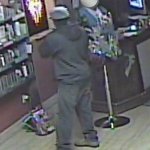 SDPD investigators have released several surveillance images of the suspects.
Tthere appears to be no pattern in targets or time of day. Some of the robberies involved two suspects. In a few robberies, there was a third suspect.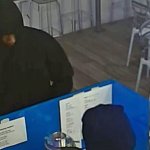 Anyone with information can contact investigators at the SDPD non-emergency lines (619) 531-2000 or (858) 484-3154.