People living in a San Diego community are being warned about animal traps set in a canyon near where a woman was bitten by a coyote.
California Department of Fish and Wildlife have set several traps to catch a coyote who they say attacked a jogger early Wednesday.
The woman said the coyote followed her and eventually nipped her in the back of the leg.
The bite did not break the skin.
Now, the department is working with the U.S. Department of Agriculture to trap the offending coyote, citing it as a public safety issue.
Officials left signs near the areas of the trap warning residents not to allow pets to roam freely in the canyon.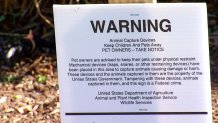 The traps were described as "padded leg traps." The California Department of Fish and Wildlife said they are meant to trap the coyote and hold it, not hurt it. An official said a person could stick their hand into one and not be injured.
CDFW officials said the area was being monitored by personnel.
Editor's note: A previous version of this article said the traps can crush body parts. We regret the error.