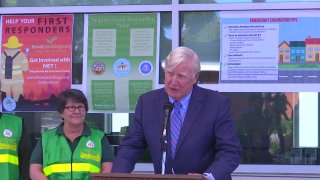 San Diego County Office of Emergency Services is rolling out a new program to help older adults and people with disabilities prepare for an emergency evacuation in the unincorporated parts of the county.
The department, along with District 1 Supervisor Greg Cox, announced Thursday an initiative at Kearny High School to do just that – called the Neighborhood Evacuation Team.
"The main goal is to create a personalized evacuation plan and to identify multiple points of contact. These can be family, friends, neighbors or caregivers who can commit to help you, should emergency strike," said OEM Director Jeff Toney.
The program will use community emergency response team members. These CERT teams will go through background checks and assist fellow neighbors in putting together an evacuation plan, should a natural disaster happen.
OEM said it hopes to have this countywide by July 1, just in time for fire season.
The pilot program is funded through a California for All grant worth about $250,000.