The elaborate costumes that fans wear to San Diego Comic-Con are often a labor of love, painstakingly pieced together all while staying true to character – and sticking to a budget.
Twins Alisa Rhead, of Idaho, and Brian Messick, of Colorado, visited Comic-Con Friday with their friend, Duan Ting, also of Colorado. The trio dressed as Poison Ivy, Edward Scissorhands and The Joker, respectively.
Messick was the mastermind behind all three costumes. He said they spent about $500 putting the three outfits together – minus an expensive pair of shoes he wore, which he already had in his closet. This included wigs, accessories and, of course, makeup.
Messick said he typically tries to stay under $100 for each costume. He went a little over budget this time, but for the trio, it was worth it.
Many of their pieces – like Messick's pricey shoes – were repurposed for cosplay. Rhead's green dress was originally a prom dress that was altered into a costume and adorned with ivy leaves. Ting's pants were a vintage pair from the 1970s; his jacket was dyed purple to look like the Joker's apparel.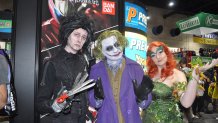 Messick said the three key pieces that pulled together each costume were the big, green eyebrows for Rhead's get-up, his "Scissorhands," and Ting's thick, detailed Joker makeup.
Tiffany Agra, of Mission Viejo, California, also came to Comic-Con dressed as Poison Ivy. This marked her 11th time at the pop culture convention; each year, she comes in costume. She, too, repurposes.
"I've recycled it over the years," she said, referring to her Poison Ivy costume. "I started this one in 2014, and I keep adding to it."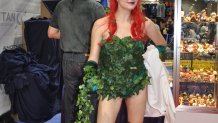 The ivy leaves were hand-stitched and sewn on by her and some dedicated friends. In all, Agra said she spent about $100 on her costume. The accessories – including her red wig and shoes – cost a little more.
Agra said she like the idea of reusing her costumes for cosplay.
"[It] keeps it interesting; [I] get more use out of it that way," she told NBC 7.
[G-2017] The Costumes of San Diego Comic-Con International 2017
Agra said the key to enjoying cosplay at Comic-Con is simple: love it and do it for yourself.
"[It takes] a lot of heart," she said. "Do it for yourself – and not for other people – because there's always going to be somebody who has a better costume than you or a worse costume than you, so do it for yourself. Don't get caught up in the competition."
Friends Ryan Preskitt and Michael Ramos, both of Santa Maria, California, dressed up as Superman and Green Arrow.
Preskitt told NBC 7 he spent about $200 on his costume – not including spray paint and repairs. Ramos also spent about $200, not including his bow.
They said the fun behind making a costume lies in the customization and making it your own.
"I got the costume and I just altered it," said Ramos. "Adding some things and adjusting it and whatnot."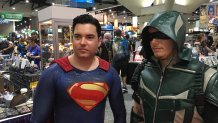 For those looking to cosplay, Preskitt suggested watching YouTube tutorials for tips on how to make costumes cool and comfortable. In fact, he learned to make soles for the bottom of his tights via an online tutorial. He also said costume networking is key
"Talk to people who can give you different information on how to fix up your costume," said Preskitt.
And, when you can, dress up with a buddy.
"When you're doing it, do it with other people – and do a theme – because you get noticed a lot more," Ramos added.
Malis Vitterfolk, originally of San Diego now living in the Bay Area, attended the convention Friday dressed as Ms. Frizzle from "The Magic School Bus" – and then some.
She told NBC 7 her costume was a "mash-up" that combined Ms. Frizzle with a Time Lord from "Doctor Who" because, as some fan theory has it, Ms. Frizzle may actually be a Time Lord.
Vitterfolk said it took her about a month-and-a-half to put together her costume. She started with some cosmic-looking fabric from her dress, and the inspiration followed, right down to dangling earrings featuring mini planets.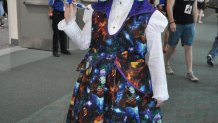 Altogether, she spent about $100 on her dress, wig, and accessories. She also pulled some pieces from previous costumes into her outfits.
Vitterfolk brought something to share, too: tiny "gold star" stickers that she gave to fellow Comic-Con attendees who recognized her character. She was thrilled to play teacher and reward attendees for their pop culture knowledge.
Vitterfolk told NBC 7 cosplay is what makes Comic-Con so fun to attend year after year.
"It's is pretty much the only reason why I come," she said. "I love looking at the costumes. You can be anything – and it fits. It's really cool to see what people come up with."
She said she especially loves to see other "mash-up" costumes that combine characters from completely different worlds.
"Like the Disney princesses dressed as 'Final Fantasy' characters or 'Star Wars' clashing with almost everything," she explained. "They get to put their own spin on it."
San Diego Comic-Con runs through Sunday. The convention was born in 1970 in the basement of the U.S. Grant Hotel in the heart of San Diego, California. Over the decades, the "little event that could" has grown into a behemoth, taking over the San Diego Convention Center, neighboring hotels and downtown San Diego for a long summer weekend every year.
Comic-Con's fervent fans typically attend the convention in elaborate costumes, transforming the city into a metropolis straight out of the pages of fantasy and science fiction.