A free shuttle service is returning to Coronado this summer, making it easier for visitors to cruise around the island and get to popular spots.
This year, Coronado's Free Summer Shuttle service will run from June 7 through Sept. 13 – the peak summer tourist season.
Each bus begins and ends its round trip at the Coronado Shores, stopping along the way at hot spots like Hotel del Coronado, downtown, the Civic Center, shops and, of course, the beach.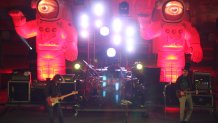 The summer shuttle buses will run every 20 minutes, seven days a week. The service runs from 9:02 a.m. to 9:42 p.m. Sunday through Thursday and from 9:02 a.m. to 10:42 p.m. Friday and Saturday.
This year, a third bus has been added to increase the service frequency from 30-minute to 20-minute intervals at every stop. A ride schedule will be available at local hotels, businesses and in each shuttle.
Free or Cheap Things to Do in San Diego
The summer shuttle service is paid for by the Coronado Tourism Improvement District. It's the Metropolitan Transit System's highest performing route in terms of passengers carried per hour of operation. The service replaces the normal MTS 904 route, providing four more hours of daily service during its summer run.
This year, the shuttles will be adorned with a bright wrap featuring a red VW van topped with a surf board, so they will be easy to spot and board.