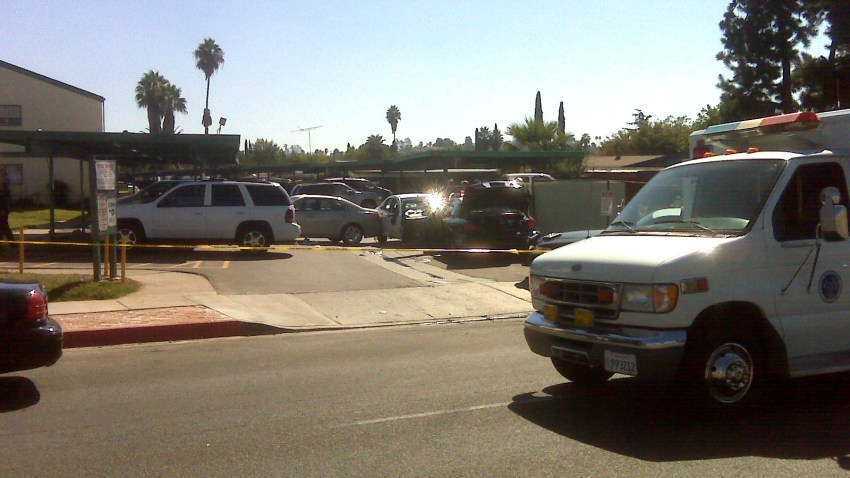 An undercover officer may have accidentally shot and killed an innocent woman, according to police and a hysterical woman at the scene.
Investigators say undercover officers were tracking a suspected car thief, when an officer opened fire. It appears the suspect tried to run down the officer, so he opened fire. The question is -- did he shoot the wrong person?

"She was helping police catch someone that stole a car and they shot her for helping," Janet Favreau said.

The shooting happened at the Pepperwood Meadows Apartment complex on East Grand Avenue in Escondido.

Favreau says an Escondido Police officer mistakenly killed her 31-year-old daughter Jennifer after she called an officer she knows and told him her boyfriend, Christopher Ramirez, had stolen a white car and she wanted him arrested.

"She had called Roger Cirello and made a deal with him, that she would get in the car and take him out on the street because we didn't want it at our house," Favreau said.

Investigators say undercover detectives had been watching Ramirez, who's a convicted auto thief on parole. When he headed toward their undercover vehicles, officers closed in.

"The suspect backed up and collided with an undercover, actually rammed that officer's car slightly injuring that officer," Lt Bob Benton said.

Benton says Ramirez accelerated forward -- right into the path of an undercover officer who was standing in the parking lot.

"That officer drew his firearm, shot at the vehicle, and the vehicle collided with a marked police car that was entering the parking lot," Benton said.

"I heard like six gunshots," Justin Marcum said.

Lt. Benton says none of the bullets hit Ramirez, but at least one struck his passenger, Jennifer Favreau. He also says there was an officer at the scene named Roger Cirello -- the same man Janet says her daughter called.

"She has a 9-year-old daughter and now her daughter doesn't have a mom," Favreau said.

Investigators say they are still trying to confirm if Jennifer did in fact call that undercover officer. They are also still in the process of interviewing the officer who opened fire, to get his side of the story.