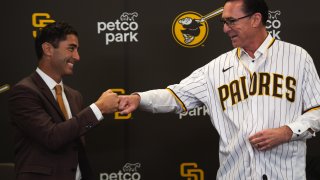 The San Diego Padres have made it official: Bob Melvin will be the team's manager. Melvin agreed to a 3-year deal to be the 22nd skipper in San Diego history.
"Bob is one of the top managers in the game and brings a tremendous wealth of knowledge and a proven track record to win at the Major League level," the team's general manager A.J. Preller said in a written statement announcing the contract.
Melvin has been a big-league manager for parts of 18 seasons with the Seattle Mariners, the Arizona Diamondbacks, and the Oakland Athletics.
He spent the last 11 years in Oakland was still under contract for one more season with the Athletics, begging the question:
How did the Padres land him without having to send any compensation to the Bay Area? That started with a phone call from Padres general manager A.J. Preller to his counterpart in Oakland, Billy Beane.
"I reached out to Billy and broached the topic," says Preller. "The first thing he told me was, basically, no chance. Go to hell. No, he was actually … my guess is due to loyalty, their friendship, and the great things they've done in 11 years together there he was open-minded and in a very competitive industry his main question and his main thought to me was I'm gonna do what's best for Bob."
That is the kind of reputation Bob Melvin has earned. He's a great baseball man but more importantly a truly wonderful human being. So, Billy and Bob talked and Bob thought there's no harm in listening to what the Padres have to say.
"We kept it under the radar, which it probably needed to be. Once I got here and met AJ in his gym shorts with four basketballs sitting behind him, that was the first hook," says Melvin, a hoops fan himself. "His passion for baseball is immense. We went out and had a couple of dinners having these long baseball conversations. I talked to Mr. (Padres owner Peter) Seidler; what an impressive man, what he's gone through in his life. What he brings to this team and his passion for the people of San Diego stood out right away."
The A's are are in a constant state of flux, often losing impact players who are replaced by prospects, and Melvin still led them to six playoff appearances in 11 years. Seidler's dedication, both emotional and financial, to the franchise was a big selling point for Melvin.
The Friar Faithful can also claim an assist in the recruiting process. The atmosphere at Petco Park struck Melvin on a trip with the A's in 2021.
"We came here on a Tuesday night there were 40,000 people here and it was electric. You'd have thought it was the playoffs," says Melvin. "It resonated with everybody in our dugout. We're all looking around at each other going WOW. And, the ballpark is fantastic, I mean it is a true destination. Every team that comes here looks at the schedule and says, When do we go to San Diego? And now with the fan base and the enthusiasm here ... and the roster. The roster is the real hook. Some of the great players in the game that I know are hungry to bring a championship to San Diego.
"I don't know that there's a better destination in baseball to be able to come so I'm a lucky man."
Melvin also won the NL West in Arizona in 2007 and his resume could not be more different than former skipper Jayce Tingler.
Melvin has managed 2,618 big league games, winning 1,346 of them (a .514 winning percentage that's better than Buck Showalter, Jim Leyland, and even Casey Stengel). Tingler had never managed above what basically amounts to rookie ball.
Bob' first job as a skipper was in Seattle in 2003. Since then the game and how it's managed has changed dramatically. The Padres want to be more analytically-focused and Melvin spent a decade learning from Beane, the man Moneyball is truly about.
"Just like in any walk of life change seems to be accelerating and so is the game of baseball," says Melvin. "I learned a lot about the analytics in Oakland. It was a little painful at times early on based on the fact I grew up looking at the game a little differently. But, I think it's made me better. It's opened my eyes (to see) that any information you can get, whether it's information that comes from your experiences or information you get from data, you can marry that. I think that's the best balance."
As a player he spent 10 years in the Majors where he posted a .233 batting average with 35 home runs and 212 RBI in 692 career games. The former catcher was originally selected by Detroit in the 1st round of the 1981 MLB January secondary phase draft.
Before his professional career, Melvin played for UC Berkeley and Cañada College in California.
Catchers do tend to make pretty good skippers. Joe Torre was a catcher. Bruce Bochy was a catcher. So were World Series champs Mike Scioscia, Joe Girardi and Bob Brenly (Melvin was on Brenly's staff with the 2001 champion Diamondbacks).
"We believe that Bob is the right man to take our talented group and help them deliver a championship to the city of San Diego," Preller said.
The new skipper was introduced to San Diego in a press conference Monday. Watch below:
LISTEN: With NBC 7 San Diego's Darnay Tripp and Derek Togerson behind the mic, On Friar will cover all things San Diego Padres. Interviews, analysis, behind-the-scenes...the ups, downs, and everything in between. Tap here to find On Friar wherever you listen to podcasts.