Three days after a heartbreaking crash in Kensington killed a 6-year-old boy, the community is rallying for safer streets.
"This could have been any of our children or our grandchildren anytime because that's a dangerous intersection," said Judy Harrington, a longtime resident in the area.
Just before 8 a.m. Wednesday, a sergeant with the San Diego Police Department told NBC 7 that a white Jeep SUV, which was heading south on Biona Drive, tried to go around traffic and was T-boned by a black Hyundai Sonata, which was headed east on Adams Avenue. The Jeep was being driven by a 45-year-old man with an 8-year-old girl and a 6-year-old boy in booster seats. The Hyundai was being driven by a 20-year-old woman.
The Jeep ended on its side, resting on a fire hydrant with the boy trapped inside, the San Diego Fire-Rescue Department said. The fire hydrant punched through the rear window of the SUV, directly where he was sitting.
The 6-year-old was freed and taken to a local hospital where he was pronounced dead. The man driving the Jeep and the second child were not injured in the crash.
On Saturday, neighbors who live north, south, east and west of Adams Avenue, got together to share ways that the street could be made safer. All of them were mourning the loss of one of Kensington's youngest residents, but they were encouraged to take action to ensure nothing similar happens again.
"Anything we can do to say help, help our community be safe for our kids," Harrington said. She added that the neighborhood is tight-knit, and while they are giving space to the family during such a difficult time, many neighbors felt they could not just sit back.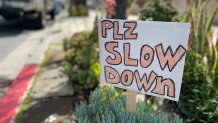 Because, residents say, what they currently have doesn't seem to be working. 
"Every time you drive up on Biona to make either a left or a right on Adams, it's like a crapshoot," said Tom Herbank, who told NBC 7 he lives close to where Wednesday's tragedy took place. "You literally have to just try to kind of inch up and inch up and kind of look to see if any cars are coming, then almost floor it, taking your chances to get out."
The group that gathered on Saturday included a few dozen residents outside of Kensington Café. They were joined by San Diego City Council President Sean Elo-Rivera. Elo-Rivera listened to suggestions to slow down traffic on Adams Avenue. Some of the suggestions presented to him include a four-way stop or roundabouts. 
He also shared that he understands the concerns, as a resident of the area himself. His office confirmed to NBC 7 that they have requested that the city conduct a 90-day traffic assessment of the area. 
In the following statement sent to NBC 7 from the City of San Diego, they stated that they do plan to conduct an assessment:
The San Diego Police Department is still investigating the cause of this tragic crash in Kensington. The City recently installed improvements in 2017 nearby the location of Adams Avenue and Biona Drive to improve visibility and pedestrian safety. City traffic engineering teams regularly review safety conditions on our streets and will conduct an assessment at this location.