Zack Golditch was an All-Mountain West Conference offensive lineman at Colorado State University. But he wasn't regarded as one of those "can't-miss" NFL prospects, so when his senior season came to a close he started preparing for life after football.
"When that last game ended it was like, 'Now what do I do?' You've got to find a job. Welcome to the real world," Golditch said.
But he didn't want to start using his double major in sociology and ethnic studies just yet.
"You know, football is what I love so it was the first thing I started to pursue," said Golditch, "and here I am now."
"Here" is with the Los Angeles Chargers, who signed Golditch as an undrafted free agent. The numbers are overwhelmingly against making an NFL roster as an undrafted rookie. But Golditch knows all too well how one moment — one decision — can change your life.
"I just went to the movie with some friends," he said.

That movie theater was in Aurora, Colorado, and he went on July 20, 2012.
"About 20 minutes in I heard some sounds coming from my right. It sounded like firecrackers," Golditch recalled.

[NATL] Aurora, Colo., Cinema Rampage Remembered
He was in a theater next to the one where James Egan Holmes unleashed hell.
"I looked up and a gentleman was hit in his arm. Right before I looked down at the screen something hit me and my ear started ringing," he said.

One of the bullets went through the wall and hit Zack just below the left earlobe.
"I covered up and tried to avoid what was happening. I felt I was bleeding a lot so I ran out of the theater, walked down the street and found some road workers. I sat on the back of their truck. They helped me out, tried to stop the bleeding, then I got taken to the hospital," Golditch said.

The bullet that caused the bleeding had entered the back of his neck and passed through the side, a fraction of an inch from his spine and carotid artery.
"There's a lot of stuff that's around that area, a lot of stuff that could have severely damaged me. Luckily it passed right through and now it's just a scar and a crazy story," he said.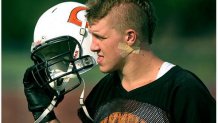 Golditch was 17 at the time, about to enter his senior year at Gateway High School in Aurora. Physically, he healed fast enough to not miss a single football practice. Emotionally, the healing took a little longer.
"I still have some reactions when I'm in small spaces with a lot of people," he said. "I guess just spaces with a lot of people. I'm very aware of my surroundings; where the exits are. But I try not to let it stop me from doing what I like to do. I'm 23. I'm having the time of my life right now so I'm just going to keep doing what I would have been doing regardless of what I went through."
If Golditch does not earn a spot on an NFL roster he says he wants to be a firefighter — a first responder to help others that need it in a crisis.