A crowd of friends and family surrounded one local veteran at his 100th birthday celebration, recalling a century of milestones for the retired Marine colonel.
Colonel Dave Severance served in the Korean War, the Vietnam War, and World War II, where he commanded the company who climbed to the summit on Mount Suribachi during the Battle of Iwo Jima.
"You played a crucial role in shaping the warrior ethos of our Corps," read a letter from the Commandant of the Marine Corps, honoring Severance's service.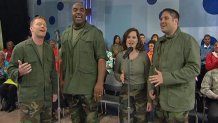 The letter was read to him during the celebrations Monday by Brigadier General Ryan Heritage, the commanding general for the Western Recruiting Region and Marine Corps Recruit Depot San Diego.
Severance recalled his time at the Battle of Iwo Jima. Here, the second of two flags raised by troops was captured by photographer Joe Rosenthal and became an iconic image and helped sell war bonds to aid the U.S. military to win the war.
Though, he said the raising of the first flag was what was cemented in his memory.
"All the ships at sea started their sirens going and troops were yelling and cheering. You definitely could see that it is an American flag," Severance told NBC 7 during a 2015 interview.
He was portrayed by Neil McDonough in the Clint Eastwood film, "Flags of Our Fathers," depicting the epic battle.
That was just the beginning of the colonel's long Marine Corps career. He served as a pilot in the Korean War where he flew nearly 70 combat missions.
As to what Severance attributes to his long life, he said, "I look back and I didn't die, as a matter fact I didn't even get hit, I came close a couple of times - I made it through three wars."
His wife Barbara passed away two years ago, missing this important occasion. Severance said she had something to do with his long life well lived. "I had a wife that took care of me day and night," he said.
Severance's three children attended his birthday luncheon. The colonel has four grandchildren and eight great grandchildren too, and so many people who consider Severance a good friend.
And as for the next milestone for this Marine veteran he said, "I figure on making it to 101. I don't look further than that."