Two people were caught on surveillance video taking a power inverter from a man's garage Friday morning in College West.
Brent Warren posted a free ad on Craigslist Thursday offering wood and miscellaneous items to anyone who wants them. He and his wife recently sold their house and are moving.
"We saw this couple drive by, and they looked at the dumpster [full of stuff from the ad]," Warren said.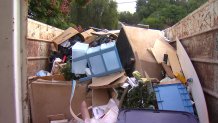 They stopped and asked permission to go through the dumpster for a few pieces of wood, Warren told NBC 7. Warren said that was okay.
While the man and woman were loading up supplies from the dumpster, Warren's wife was watching them on their Ring surveillance camera.
At first, the two fished stuff out of the dumpster, and Warren and his wife didn't think anything of it.
"[Then] they huddled together, whispered a few things, and then manhandled my 90 pound inverter and threw it in the back of the truck and sped off as I tried to chase them down," Warren said.
The inverter was left in Warren's garage, where he said he "didn't think anyone would touch it."
The inverter was valued at $2,500, according to Warren. "It's an expensive piece of equipment."
A power inverter takes energy collected by solar panels and turns it into another form of energy that can be used by commercial electrical grids, Warren told NBC 7.
Luckily, Warren said he has an extra one.
However, the inverter wasn't the only expensive item that was taken.
"We looked back at the video, saw they grabbed an iPad that made its way in there by accident," Warren said. "So, they might have some personal info that we don't want them to have."
This was unusual for the neighborhood on Campanile Drive, according to Warren.
"Not the area for it. We don't have this kind of thing," Warren told NBC 7. "Worst thing we ever had was a drunk college kid once. No theft. No nothing."
Warren and his wife believe the Craigslist ad could have attracted the couple.
"Sure want to be able to trust people these day, can't trust them anymore," Warren said.
He plans on pressing charges against the two.
Warren's parents bought their house in 1965, so although Warren is moving, the area has been home to him for decades.